When Harry Willmot began his career at RBC in 1987, the bank and the country looked very different. Over 35 years, he has witnessed, supported and facilitated change in the organization's approach to Indigenous banking, helping to inspire new thinking and processes to benefit Indigenous communities.
Harry Willmot started his career at RBC 35 years ago in 1987. While a branch manager in Scarborough, Ontario, Willmot picked up the latest edition of Interest Magazine – an internal RBC publication released quarterly – and read about a Cree woman named Audrey Ahenakew who wrote about how RBC was getting involved in the Indigenous community. Willmot was intrigued, having always had a connection with Indigenous people. He phoned Charlie Coffey, then the Regional President of Manitoba, who was one of RBC's first advocates of Indigenous communities and mentioned at the end of the article. "You're just the type of person we're looking for," Coffey had said to Willmot who had expressed his interest in the work. "That's when my career in Indigenous banking began – and I haven't looked back," says Willmot.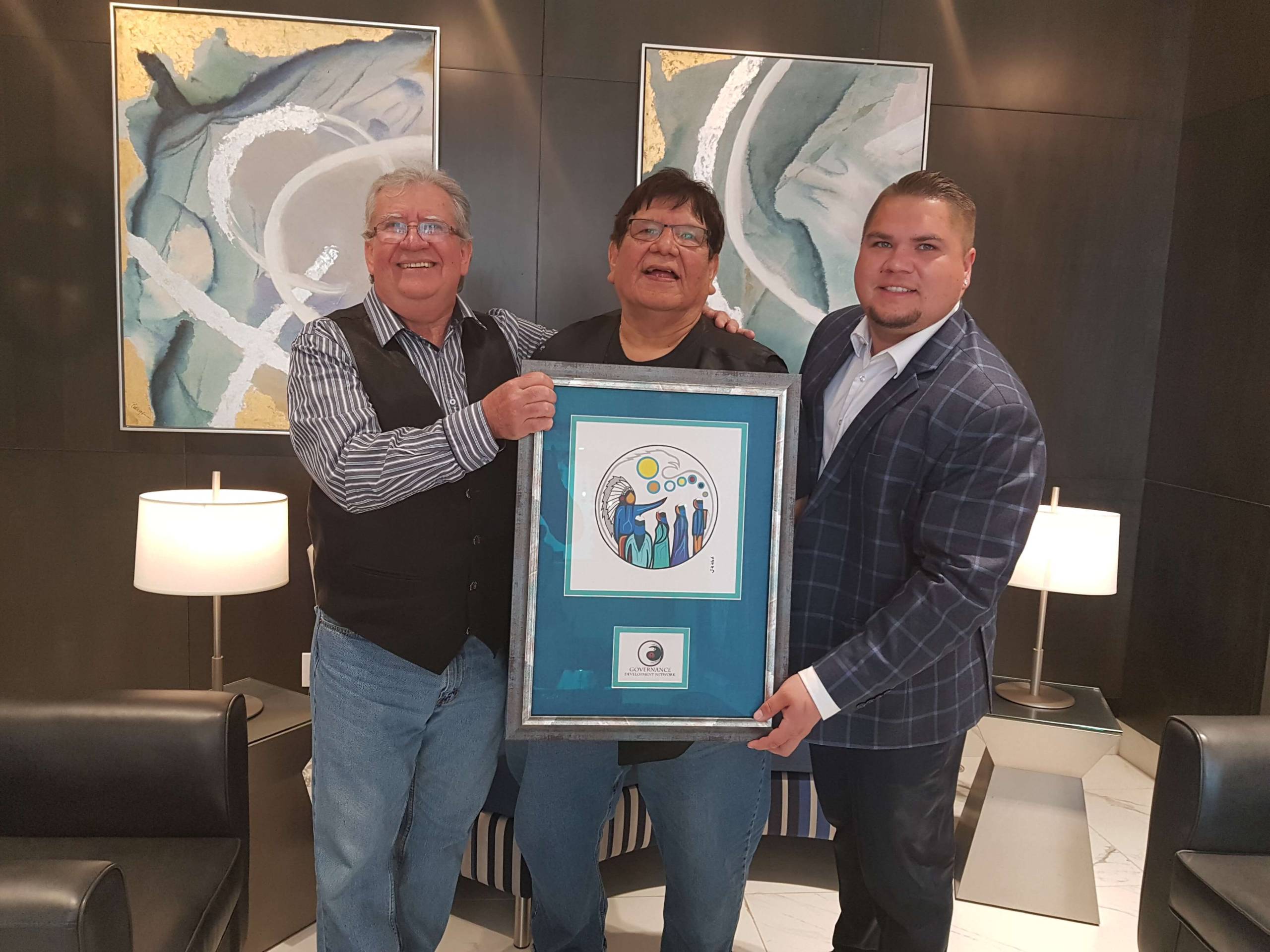 Harry Willmot accepting an Award from Chief Tom Bressette and Mathew Laine, from the Governance Development Network.
Over his thirty-five years with RBC, Willmot has witnessed and facilitated a great deal of change in the organization's approach and commitment to Indigenous banking. In a recent conversation, he shares the out-of-the-box thinking, relationship building and perseverance of the RBC team that has helped bring prosperity and independence to many Indigenous communities across Canada.
The first shift: A direct relationship with First Nations
Thirty-five years ago, financial institutions interpreted the rules and regulations of the Indian Act to mean they were not permitted to deal directly with Indigenous governments, businesses or peoples – rather, they had to work with the Federal Government. "RBC was the first bank to recognize we have sovereign nations living within Canada, under treaty, and captured in our Constitution," recalls Willmot. "I tip my hat to RBC as it was the biggest change at that time and a real eye-opener to all the banks," he says, sharing that RBC's intense review of the Indian Act sparked an understanding that banks did not have to deal with the Federal Government. "And we proceeded down that path, which probably put us a decade ahead of our competition," he adds.
For example, Indian Act Section 88 and 89 does not permit anyone to take the assets of an Indigenous individual living on-reserve, which means a mortgage cannot be placed on a home. "It's community land, and it's managed by the First Nation," explains Willmot. But RBC's willingness to explore the limitations of the Indian Act and work within the regulations paved the way for programs such as the on-reserve housing loan program, which mimics a mortgage off-reserve. "This kind of program was unheard of when I started with RBC."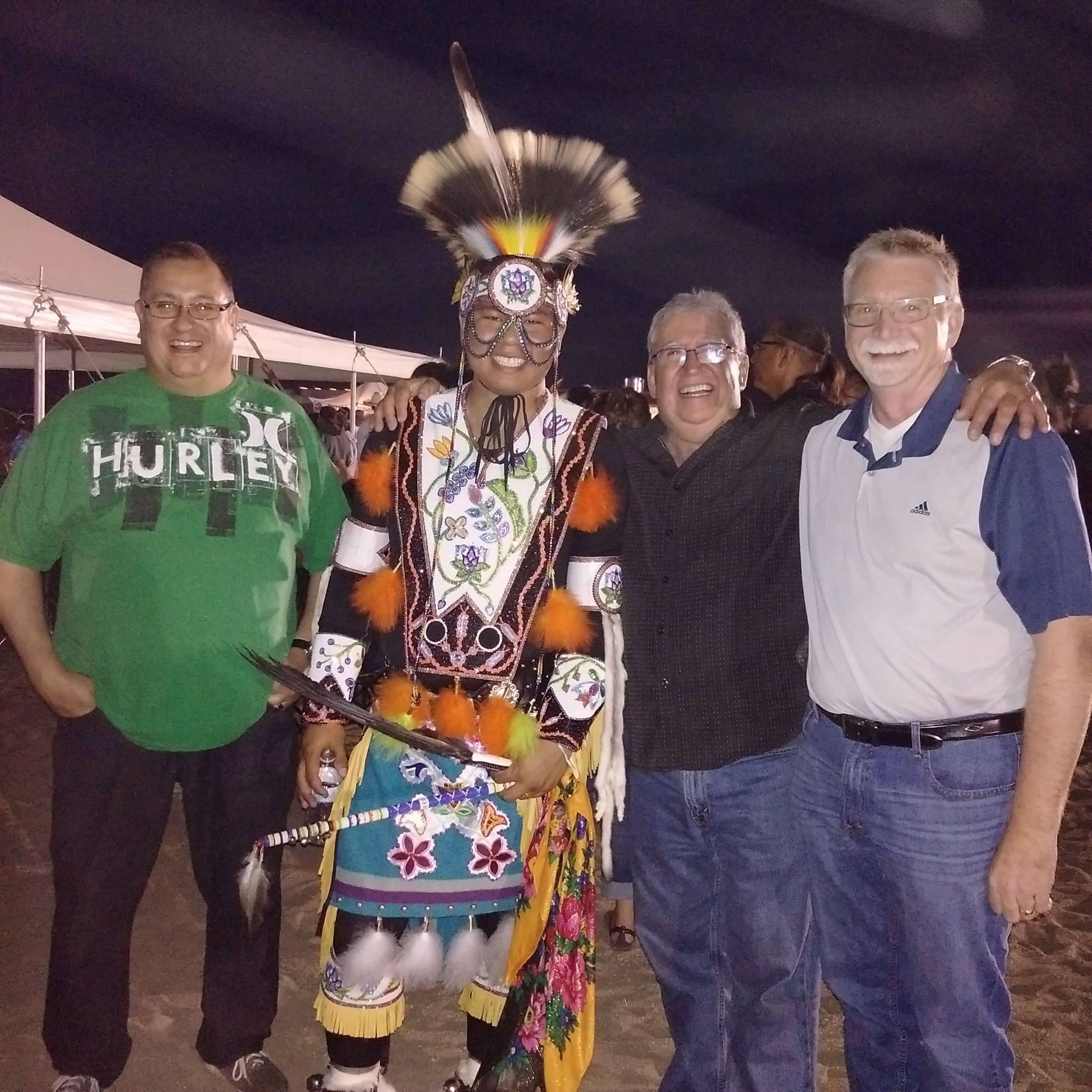 Harry Willmot, Herb Zobell, Thomas Benjoe, and David Reid at the Pow Wow grounds in Regina.
In dealing directly with First Nations, RBC gave communities an opportunity to take control of their finances, offering greater choice and flexibility and a path to independence and prosperity.
Keeping money in the communities
Over the past 35 years, RBC has opened many branches on-reserve, enabling Indigenous people and businesses easier access to banking services. "One of the other major changes over the years is our implementation of agency banks," Willmot explains. Agencies offer RBC products and services within an existing on-reserve business, such as a co-operative, when adding a full branch is not a viable option. "We provide the technology, a safe and the ability for residents of small community to access RBC products and services, and we marry it with a parent branch," he explains. RBC has six agencies in operation, including three in Nunavut and eight full-service branches on-reserve. And, through their remote account-opening program, RBC sends mobile bankers into communities where there are no branches.
The impact of agency banks in remote communities is significant. "In very remote communities in the far North, people usually have to fly in and out. For those working in the community, when they receive their paycheque, the issue becomes a matter of where to cash it. People could go to the local store that offers credit, or cash the cheque for a fee, which often leads to a vicious circle of debt," he explains. "Or, people would fly out to urban centres like Thunder Bay or Kenora, cash their cheque and spend their money in those communities. The result is be no dollars come back and circulate within their own community."
Willmot and his team discovered that if they could get money to stay within the community, businesses would start to open, and wealth could be generated and retained. RBC has two agency banks in Ontario – one in Webequie and one in Wikwemikong on Manitoulin Island (which recently celebrated its 20th anniversary) – and three agencies in Nunavut. "In Webequie, which is a tiny little fly-in community, there is a hotel now, a restaurant and a laundromat. There are little businesses popping up, which is the result of money circulating within the community," says Willmot.
Building infrastructure – and relationships
Through his work over the years, Harry has had the flexibility to go into the community and sit on a number of advisory committees and councils on behalf of the bank. "RBC has given me the flexibility in my position to participate in the community, and I think that's really helped create strong relationships and networks," says Harry, who feels much of his role over the years has been to share knowledge with his clients. "Up until that time, financial decisions were made by another foreign government – the Government of Canada. By helping individuals build their own financial literacy, they can make their own informed decisions about their money."
Willmot has also been involved in major infrastructure projects over the years, such as building schools or fresh water and sewer treatment plants. "Most recently, we're looking to bring transmission lines into the far North, replacing inadequate old diesel generators, which are unreliable and costly to operate and maintain and have a huge environmental impact. Not only does this project support those First Nations, but the sundry businesses that are expanding throughout Ontario's ring of fire. It's just amazing," he says.
He adds that one of the challenges of the far North has been that children need to be flown out of the community and sent to big urban centres to go to school. In many cases, the children go missing. "This is what spearheaded one of our first big projects in Kasabonika," he recounts, sharing that one year, seven teenagers from the community went away to school and never came home. "When you come out of the far North and go into a big city like Thunder Bay, it's overwhelming and a lot of these kids are never seen again."
To build the school, RBC leveraged an unconventional formula, securing support through an assignment of future revenues. Rather than waiting for a guarantee from the Federal Government that could take years to come through, they loaned money directly to the community to bridge the construction of the school five years ahead of schedule. It's an approach that drew on the relationships they had built with the community and is what Willmot describes as a "respectful way of doing business."
"It took courage for the bank to recognize that we didn't need a Federal Government guarantee. I think that's what has set us apart for decades – none of our competitors would even think of lending money to an Indian reserve without a Federal Government guarantee. It just wasn't done."
These are some of the career highlights for Willmot. "It's not the money you make or the profits you earn for the bank. To me, it's being able to bring fresh water to communities that never had it before, or to put a school in a community so kids don't have to leave home or their families. It's putting in a medical centre or power generations lines that will affect 28 fly-in communities in Northern Ontario."
Over his tenure with Indigenous Banking at RBC, Harry Willmot has seen and inspired change. He's been part of the team that has brought banking services to the most remote parts of the country, facilitated infrastructure that has brought clean drinking water and on-reserve schooling to communities and enabled Indigenous individuals to build businesses and generate wealth. It is work that took out-of-the box thinking, courage to act on different ideas, a conviction to do the right thing and at times an uphill battle to get the work done. But Willmot is not one to take any credit. "I'm just someone who has helped push the rock up the hill," he says.
Today, he is encouraged by the national awakening to Indigenous history, the economic potential of Indigenous communities and the injustices and inequalities that still exist today. The 4 Seasons of Reconciliation course, which over 30,000 employees have completed the first module, is further evidence of RBC's commitment to cultural awareness and education, and an initiative that makes him hopeful for the future. Because while Willmot has the knowledge and experience of over three decades behind him, new employees don't have his context or history. RBC's vocal commitment offers a starting point that can help the next generation of RBCers and Indigenous individuals work together to create a pathway to a prosperous future.
Invitation to Learn: 4 Seasons of Reconciliation
RBC is honoured to partner with First Nations University of Canada and Reconciliation Education to welcome and invite you to learn from the various Indigenous contributors involved in the creation of 4 Seasons of Reconciliation. These resources are the result of many years of work and much careful thought – ayâkwâmisiwin (in Cree).
RBC extends its gratitude to the Kêhtê-ayak Elders (Elder Council) and to all the contributors
Diane Amato is a Toronto-based freelance writer who loves to talk about finances, travel and technology.