In her 24 years, Ishita Aggarwal has already accomplished much. She moved to Canada at 5, completed her undergrad degree at the University of Toronto studying cell and molecular biology, neuroscience and psychology. In her spare time she is also a philanthropist and women's rights advocate.
Ishita was recently recognized as a winner in the annual RBC Top 25 Canadian Immigrant Awards — which celebrates the outstanding accomplishments made by Canadian newcomers. Additionally, she received distinction as the inaugural Youth Award Winner for a newcomer between the ages of 15 and 30 for leadership in the community.
Ishida's story is one of strength and determination – a story shared by many newcomers – illustrating that Canada's future leaders are leading the charge to make our world a better place. I had a chance to get to know a little more about Ishita. Here's her story.
What Does This Award Mean to You?
Ishida: I am very honoured and humbled by this recognition. It is a sign that I am on the right path — that by following my passions and interests, I can not only help make my community a better place, but can also achieve professional and personal fulfillment. Furthermore, this recognition has reminded me that I am grateful to my parents for taking a chance on Canada so that my brother and I may have unique and extraordinary opportunities like this one. I will hold on to this feeling as I pursue my goals. I hope I can continue to be a strong representative of the Canadian immigrant and youth communities.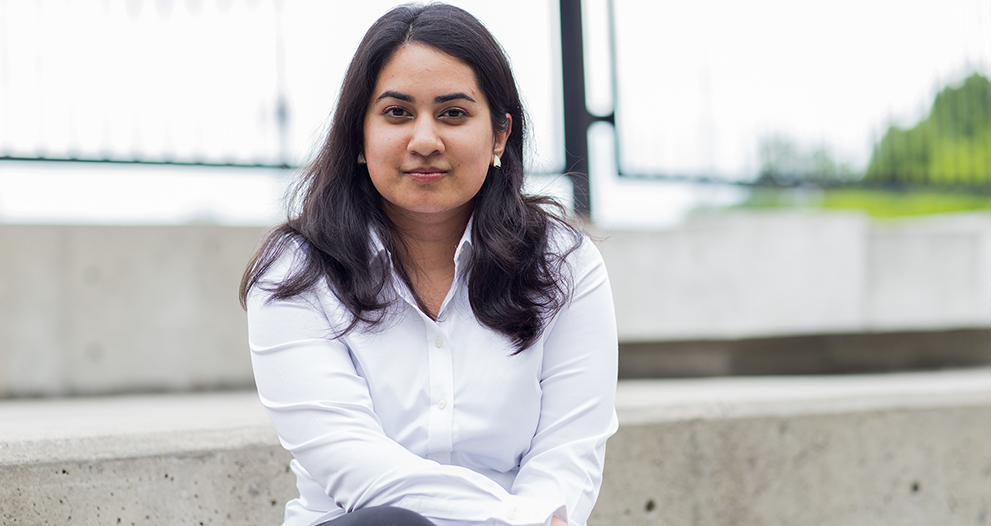 What Obstacles Did You Have to Overcome When You Moved to Canada?
Ishida: Not speaking English was a big obstacle. I struggled in classes at the beginning, but with the help of a Hindi-speaking teacher, I was able to understand the material and slowly began to learn English. But the biggest culture shock was the weather! I would forget to bring a sweater or jacket to school and would have to borrow clothing from my friends. That was one of the first indicators that we were in a good place: I saw almost immediately just how great Canadians are — they were always willing to help out.
I am grateful to my parents for taking a chance on Canada so that my brother and I may have unique and extraordinary opportunities like this one.
What Advice Do You Have for Newcomers?
Ishida: Ask for help when you need it. Often people have access to networks and resources and are happy to share what they know if you just ask. Whether it's for education, jobs or volunteer opportunities – ask for help and you'll be amazed at what others are willing to offer in the way of help and guidance.
Don't be afraid to pursue your passions. Canada is a country of opportunity and I have found that becoming an active member of my community through my volunteer work and education has given me a deeper connection to it.
What's the Best Piece of Advice You've Received?
Ishida: Failure is never final. Avoid looking back in regret and keep moving forward.
Do You Have Any Advice for Young Women Who Want to Get Into the Sciences?
Ishida: My advice is to start early! We are seeing more and more Science, Technology, Engineering and Math (STEM) programs at schools and in the community. If we can get young girls involved from an early age, then they will grow up with the confidence to excel in these fields.
And to parents: If your daughter shows an interest in science, then nurture that! Get her involved in science camps and workshops and help her explore if this field is right for her. But ultimately, let her make the decision that she wants to pursue it.
What's Next for You?
Ishida: I'd love to pursue further education and seek new, exciting opportunities in biology and healthcare.