Jenny Stafford began to gradually lose her eyesight at age 25. Diagnosed with retinitis pigmentosa, her sight has deteriorated over time, and she can now see only light and dark. But her impairment doesn't hold her back, thanks to support at work and in the community and her trusted guide dog Nan.
Jenny Stafford has worked at RBC as an Officer in Jersey, Channel Islands, UK, for the last 24 years and is an indispensable member of her team. She is an active member of her community, has completed over 100 park runs (a 5km community event that takes place every Saturday), a tandem parachute jump, a 5-day trek along the Great Wall of China and an Abseil off Mont Oreguile Castle. She is also severely sight-impaired – but her vision loss doesn't hold her back.
With the right support, anything's possible
Jenny has a wide and dedicated circle of support in Jersey, both in the workplace and in her community. "When I first experienced difficulties – and since then – the support I have received has been amazing," explains Jenny.
When she first developed sight loss, a vocational rehabilitation consultant came into her workplace and met with Jenny, her manager and IT to work out a plan, including a larger computer, Zoomtext, a CCTV and a large button telephone.
When her sight deteriorated, they brought in a package called Supernova, which magnifies the screen and keys and tells her which keys she is touching. Since then, the IT support has continued to be responsive and adaptive, finding and managing technology that enables her to do her job. In fact, the IT department in Jersey has worked with contacts in Toronto to get the right solutions in place, including technology that allowed her to get set up at home during the lockdown. Now, she can work from home or the office, just like everybody else, and enjoys a hybrid schedule.
Jenny has worked in three different roles since her sight impairment, and in each case, her colleagues have risen to the moment. "I've been in three departments since I started losing my sight, and everybody's taken me on board and finding answers when needed. It's a team effort. I say all the time, as long as you have the right support, you can do anything."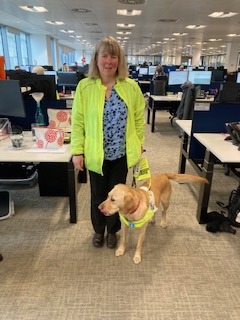 Elaine Lawless, Jenny's current manager, has been a constant presence in Jenny's life since joining her team and is one of her strongest advocates at RBC. "Jen is so valued in the job she does; she makes a massive difference to the team. When someone with a disability is allowed to do as much as they can independently, it creates a level playing field. You don't make them special; that's not what they want. They just want the most normal that normal can be."
Part of the support that Jenny receives is from a Jersey-based organization, EYECAN, which offers a range of services to assist individuals with a sight impairment, their friends and colleagues. Chris Frost, a rehabilitation officer, is Jenny's primary contact and active supporter.
Chris has worked with EYECAN for nine years and primarily assists individuals who develop sight loss later in life. With his clients, he conducts assessments to learn more about the kinds of things they find difficult as a result of a reduction in vision. From there, he works to match solutions to solve for those issues. From mobility to communication to daily living skills, Chris offers assistance and guidance to help them live their lives.
Chris and Jenny primarily work together on technology and mobility solutions. "RBC moved offices recently, and we've done a lot of work around getting from home to work safely. She's got quite a long, busy route from home to work, with a lot to encounter along the way – whether it's people or cyclists or road construction. We break down the route step by step, all the way, until she reaches her office."
Jenny has also moved desks a few times, which poses challenges with routing – but it's nothing she can't handle. Every time she moves, Chris comes in and does a route revision, making sure she can get to the front door, up the stairs, to her desk, the fire escapes, bathrooms and more.
"We look at techniques to identify where she is within that space and training her and her dog to get to her desk safety and get to the fire escape, for instance," says Chris.
"For everyone else, a desk move is a desk move – you might get to sit in a nicer seat or get a better view," says Elaine. "But for Jenny, it's learning and relearning a route to take the dog outside, getting in and out of the building; it's not as straightforward as for everybody else." She feels that most people in Jenny's position would probably request not to be moved, given the effort and learning involved. "But not Jen," she says. "Not ever. She just says, tell me where I'm going, and I'll relearn the routes. We'll start again."
Outside of the office, Jenny is highly active. She has participated in over 100 park runs (a 5km community event) that she can accomplish with the help of a team of volunteers. Since 2016, a rotation of sighted runners has taken turns guiding Jenny along the route. "A lot of people think it's too complicated to do, but I say just come out and have a go," says Jenny of the event. She has also completed the London Marathon twice, a Triathlon and a Duathlon.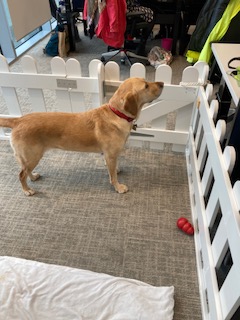 Ask for help, ask to help
Jenny, Elaine and Chris all emphasize the importance of communication between people with disabilities and their friends, families, colleagues – and anyone else there to support them. "I always say, just ask questions," says Jenny. No question is stupid. Being afraid to ask the question is worse. You learn when you ask questions and when we communicate."
"Jen is very open," adds Elaine. "She will talk to you. Sometimes people are afraid to ask questions because they feel it will be too personal, but if you don't know, you can't help. And then you don't end up treating that person the same. It's easy to coddle someone and try to do everything for them, but that's not helping– as Jen says, she just does things differently."
When it comes to working with someone with a disability, Jenny shares this advice with employers. "There's a lot of support out there. If you come across somebody who has a disability, just go and speak with the person and find out what they need and contact the experts who work in that person's field of disability. There is so much technology available as well," says Jenny.
Elaine also cautions of the implications of ignoring this population when hiring.
"Being a manager, you have to see that you could be losing out on such a massive and valuable skill set if you don't recognize the value they can bring to the table and what they can offer to the team. You need to be open-minded and communicate to get the best out of people, she says. "You're going to enrich your workforce when you're inclusive."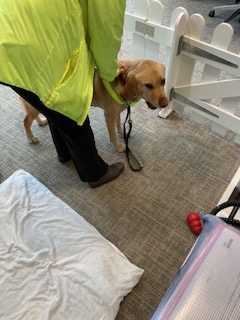 Giving back to the community
Jenny is also an active member of her community, an ambassador of sorts for people with sight impairments. Beyond leading by example, she participates in talks and events to raise awareness of the capabilities and potential of people with disabilities. "I give back to the community to raise awareness," she says. I've had a lot of challenges, but my independence has always been very important to me. For me, giving back is about improving things for the future and making people aware that just because I'm not sighted, doesn't mean I can't do things – I just do things differently."
Jenny also sits on EYECAN's committee, where her perspective is highly valued as someone who receives the services and understands what people with sight impairments really need. "She's very active in trying to make things better for other islanders with a sight impairment. That's her main motivation for being on the committee, making sure she's doing all she can to improve services for other people," says Chris.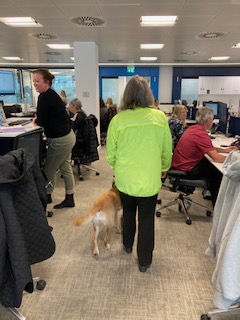 With the support of her friends and colleagues at RBC, EYECAN and her guide dog Nan, Jenny Stafford is up for anything. "I love a challenge," she says and is committed to living her best life. "It's only my eyes that don't work – everything else does," she is fond of saying.
Jenny feels fortunate to have the support she has at work and beyond and believes anything is possible when there is awareness, open communication and a willingness to provide opportunity.
Diane Amato is a Toronto-based freelance writer who loves to talk about finances, travel and technology.