Started as a protest, rooted in purpose and celebrated internationally, Pride Month commemorates and celebrates LGBTQ+ rights and culture. At RBC, the Progress flag will be raised in downtown Toronto on June 1st as a symbol of allyship, inclusion and yes… Pride.
Cities around the world celebrate Pride Month in June, and Toronto is home to one of the biggest celebrations out there. In a recent conversation, co-chairs and champions of the RBC Pride Toronto Employee Resource Group shared the importance of celebrating Pride Month, the value of allyship and the messages they hope all Canadians take with them this month.
"We have a lot to celebrate here"
Pride Month commemorates the Stonewall Uprising, which began on June 28, 1969, as a protest in the face of police brutality against the gay community. The uprising, which lasted five days, served as a catalyst for the gay rights movement in the United States and around the world. 54 years later, Pride Month commemorates the ongoing pursuit of equal justice for the LGBTQ+ community and celebrates the progress that's been made so far.
"Yes, Pride is a party. Yes, it's a celebration and a big event that brings people together," says Jeff Smellie, co-chair of RBC's Pride Toronto Employee Resource Group (ERG). "But really, it's a reminder of how far we've come." He reminds that around the world, it is still illegal to be LGBT+ in 70 countries. "Here in Canada, there is a lot for us to celebrate about the way our culture and our community works."
Co-chair Caroline Tutakiewicz adds that Pride Month is an opportunity for the community to recognize its history. "In my lifetime, we've seen the legalization of equal marriage in Canada and we've seen the inclusion of gender identity under the Canadian Human Rights Act. But there are still so many countries and jurisdictions where that isn't true. Personally, I use Pride Month as a reflection of how far we've come, but also just how far we still have to go."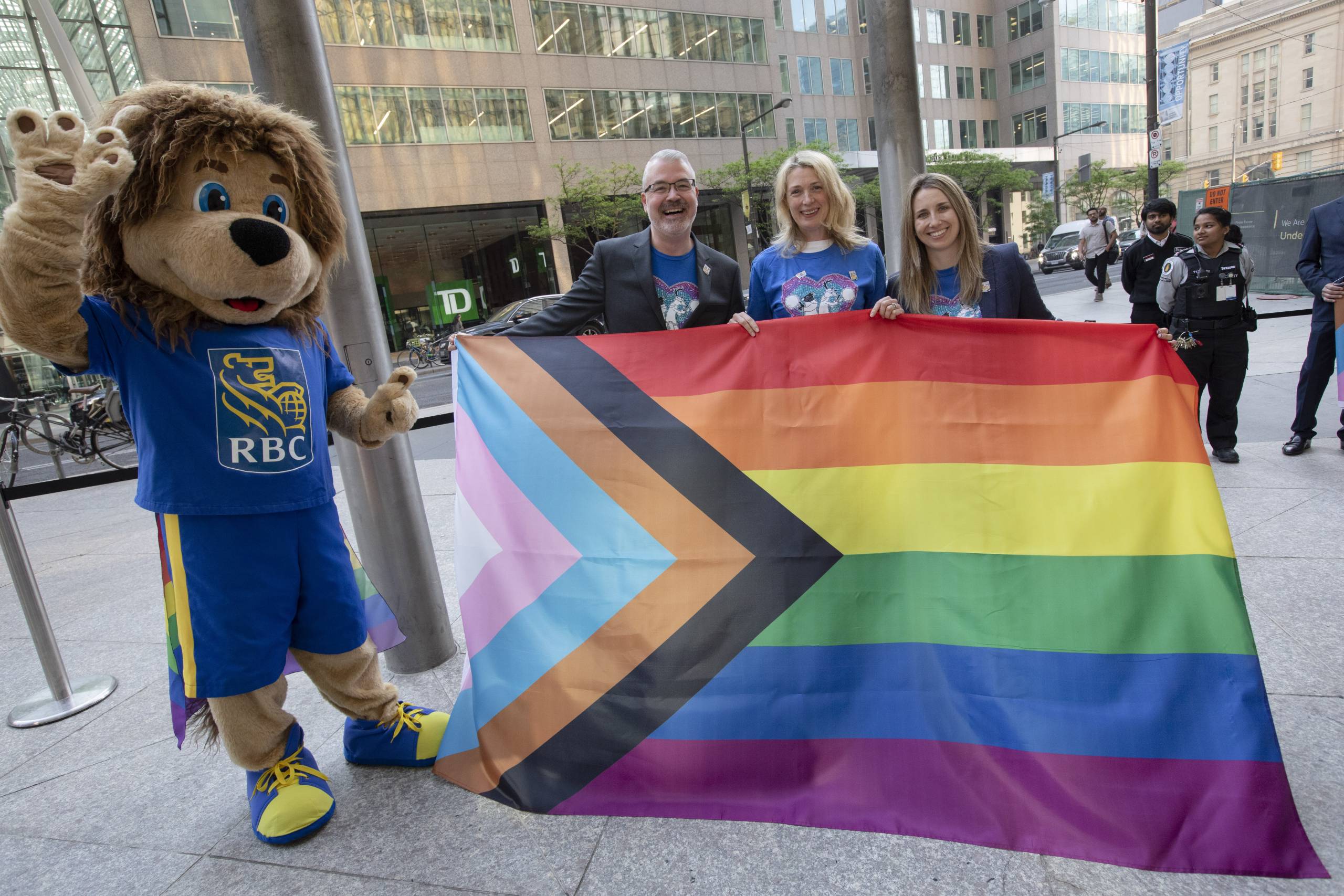 From Andrea Metrick's perspective, as an ally of the LGBTQ+ community and executive co-champion of RBCs National Pride ERG, Pride Month is a great way to visibly and articulately show support for diversity and inclusion and to take a stance against discrimination and violence. "Pride Month is a great opportunity to be there in a moment that matters," she says.
And let's face it, Pride Month is also a lot of fun. Throughout the month of June, RBC Pride Toronto has a full roster of events and celebrations lined up – from attending opening night of the Inside Out Film Festival, the Lavender & Wild Music Festival, to hosting Drag Bingo to raise money for charity, an RBC-wide employee event and a wide range of town halls and panels they either are asked to speak at or attend.
The biggest and loudest moment of celebration, however, is the Toronto Pride Parade, which is taking place June 25th in downtown Toronto. "It's always a big deal for us," says Jeff. "RBC registers with Pride Toronto, we get our t-shirts, our banners and our flags and rally individuals to participate in the parade. It's a great opportunity for our members to be visible in the community."
Andrea adds that the Pride Parade "is also an opportunity for friends, families and colleagues showcase support for the community and be a part of a momentous event." As one of the most-attended Pride Parades in the world, Pride Toronto 2023 is sure to be one of the biggest celebrations yet.
"Allies become the voices in the room when someone like me isn't there."
Beyond a big celebration, the Pride Parade is an important expression of allyship on a large scale. "It's heartwarming to see the millions of people in Toronto during Pride weekend, many of whom are allies coming out to proudly show their support," says Caroline, who acknowledges the role that allies play in the advancement of inclusion. "Allies become the voices in the room when someone like me isn't there," she says. "They're the ones creating opportunities for us. They are making meaningful change on behalf of our community members.
She shares that even small acts of allyship are very important – such as wearing a rainbow bracelet or pin, sharing your pronouns, or keeping a flag in your office. "Every act of allyship, big or small, is a symbol that you're a safe person. It says, it's okay to be you when you are here."
As an ally and executive with RBC, Andrea wants to make sure that employees feel it's safe to speak up and can bring their full selves to work. "From an RBC perspective, we strive to be a recognized leader, a trusted advisor and an employer of choice for the LGBTQ+ community." Says Jeff: "If you're spending time protecting certain parts of who you are, you're not going to give your full ability within your role or within your team. We need allies to help create the culture where it's free to be yourself."
"Raising the flag is a public declaration of support for inclusion."
On June 1st, to kick off Pride Month, the Toronto Pride ERG raised the Progress Pride Flag on the flagpoles in front of the RBC Plaza Branch in the heart of the financial district in Toronto. "The Plaza Branch is our flagship and an iconic building here in downtown Toronto and raising the flag there is a huge sign of commitment," says Caroline. "It drives a lot of awareness for the community and is a very visible signal of allyship as an organization. It says, you're welcome here, you're safe here."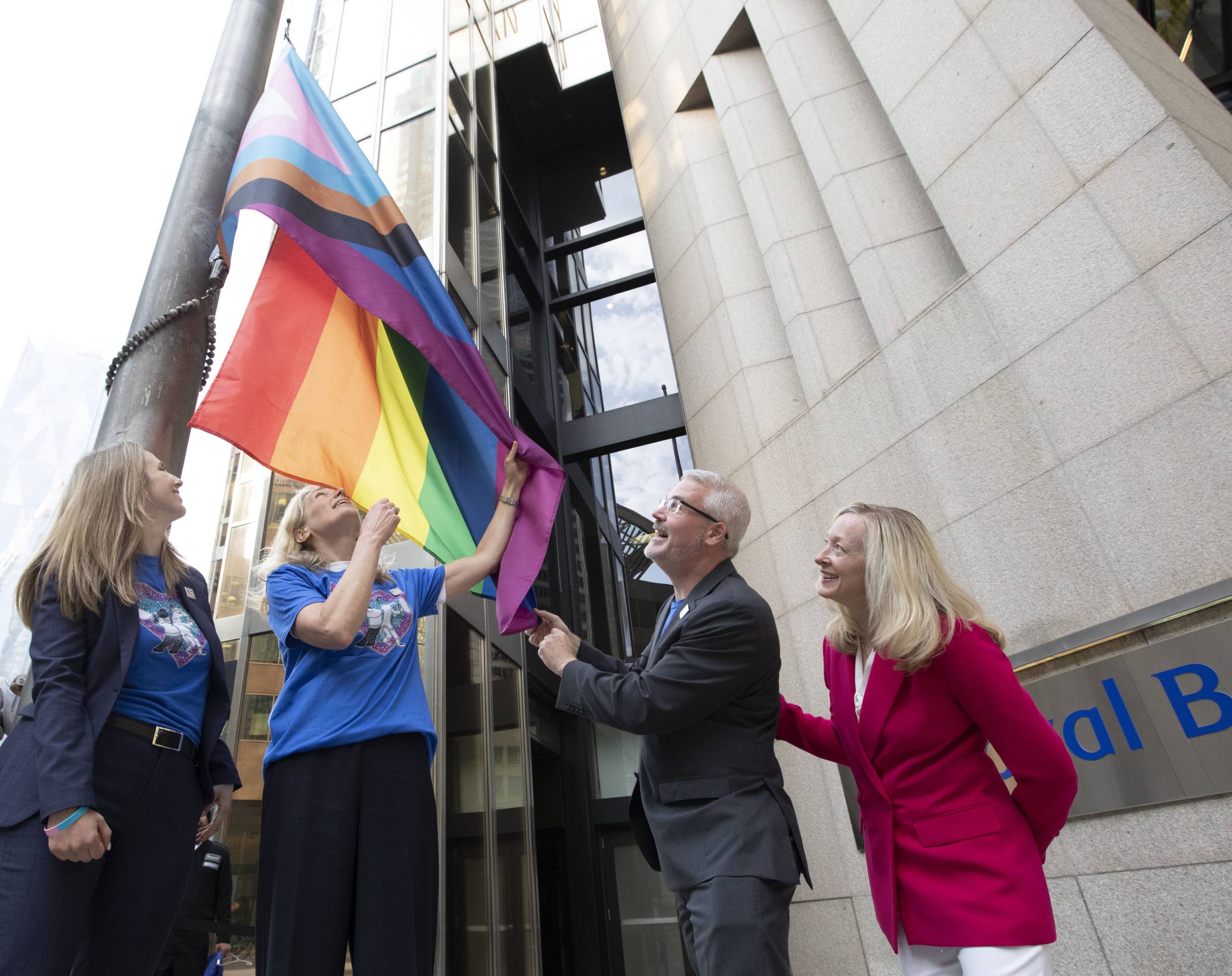 Nadine Ahn, Chief Financial Officer joined the ERG along with the other RBC executives and colleagues to help raise the flag
"It was an honour to help kick-off Pride Month alongside colleagues, clients and commuters. As we raise the Pride flag each year, we raise along with it the voices and stories of those who inspire us to continue advocating for greater inclusivity in our workplace and communities. We also send a powerful message – to our employees, clients and communities – that RBC is a safe and inclusive space for all."
Andrea adds that raising the Progress Pride Flag is "a public declaration of support for inclusion. I am very proud to be part of an organization that is taking that leadership role and not only supporting our employees but showcasing that support to our broader communities."
"Inclusion and allyship are important all year long."
Pride Month is an opportunity to bring people together, but also a reminder that inclusion and allyship can and should be celebrated every month of the year. "A key message I hope comes out of Pride Month is that your allyship should be an intentional choice and active act throughout the course of the year. June is a great month – but what we do in all the other months of the year is equally important," says Caroline.
After all, it's the diversity of all of us that makes us unique and strong. "We want to create the awareness that diversity drives our strength, our diversity makes us better and our diversity creates innovation. I would love to see that awareness continue throughout the year," adds Andrea.
Inclusion is important at every step and is part of what makes Canada the country that it is. "We include others here," says Jeff, who encourages us all to acknowledge this as we get ready for Pride Month. At RBC we have a lot to celebrate. So let's go out and celebrate!".
About the Progress Pride Flag
The six-colour Rainbow Flag was redesigned in 2018 to place greater emphasis on inclusion and progression. Five arrow-shaped lines were added to the new Progress Pride Flag, including black and brown stripes to represented marginalized LGBTQ+ communities of colour, along with the colours pink, light blue and white, which represent the Transgender Pride Flag.
The arrow points to the right to show forward movement and illustrates that progress towards inclusivity still needs to be made.