NextGen is an RBC ERG with a vision to empower early- to mid-career employees to have a meaningful and dynamic journey at RBC. Co-chaired by Adam Mcleod and Aakanksha Verma, the ERG is a bright example of the impact employees can have on their peers, the community and the culture at RBC.
When the NextGen Employee Resource Group (ERG) was first formed several years ago, it focused on enabling and supporting young professionals in their 20s and 30s who were at the onset of their careers. Over time, their service audience has expanded. As national co-chair Aakanksha Verma explains, "We soon realized through our member base that a lot of them were not necessarily young professionals but were seeking mentorship or sponsorship even if they were mid-career. We decided we weren't going to define our membership by age."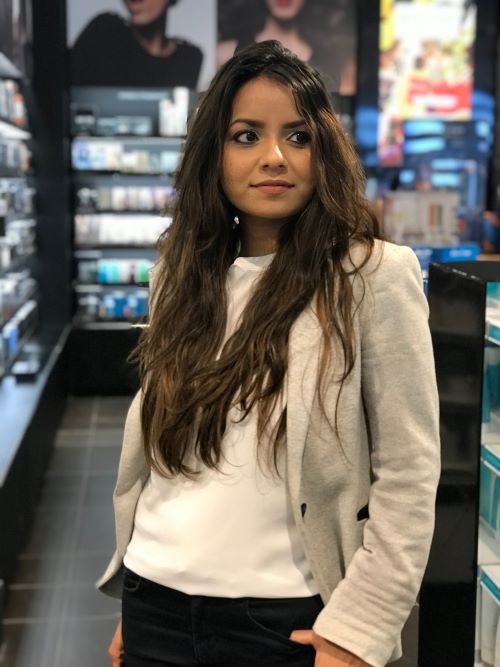 Photo: Aakanksha Verma
What's more, with many employees having joined RBC remotely during the pandemic, forming a network in the workplace was a challenge – NextGen helped their new members make valuable connections with colleagues.
Today, the NextGen mission involves fostering a culture of learning to accelerate career growth and development, creating a sense of belonging through access to leaders, mentorship and networking and activating employees' sense of purpose by giving back to the community – regardless of where they are in their life or career.
3 Guiding Pillars: Capabilities, Connections, Community
NextGen's strategic priorities are centred around three guiding pillars: Capabilities, which fosters an always learning culture, creating opportunities for employees to develop key skills through experiential upskilling with senior leaders, democratizing access to 21st-century skills, and becoming a mentor to the youth of tomorrow to accelerate career growth and development; Connections, which helps employees develop meaningful relationships at RBC through embedding and sustaining an innovative networking and mentorship program; and Community, which creates opportunities and inspires employees to develop and gain experience through community initiatives, embodying RBC's purpose of 'helping communities prosper'.
NextGen has a well-integrated national cabinet and regional chapter structure that enables the ERG to run meaningful national and local initiatives that ultimately support the ERG's mission. For Verma, iThrive — a digital mentorship program — is one of the Connections' initiatives she's most proud of and which has considerable impact on its member base. "The iThrive platform has the capability to do two things. One is to match employees with mentors and like-minded people across Canada and encourage a monthly meeting to foster mentorship and develop meaningful networks," Verma explains. "The second is Office Hours, which democratizes access to leaders and subject matter experts across diverse roles within the organization. It's a group mentorship session with 15-20 people, where members can ask any questions they have in a close-knit and safe environment." To date, NextGen has engaged more than 70 Leaders across the bank to host virtual career chats with employees on a regular cadence to facilitate learning opportunities through networking, mentoring and knowledge sharing. The iThrive platform today has more than 15,500members and has made over 14,000 introductions in 2022 alone.
Within the Capabilities pillar, a flagship initiative is RBC NextGen Masterclass, which is a large-scale national session delivered through a senior leader's unique lens. "Again, it democratizes access to senior executives within the bank. Members can learn how they have upskilled themselves throughout their career, understand how they built their networks and hear best practices on how they keep themselves up to date with the skills and needs of the future," Verma explains.
In support of the Community pillar, NextGen's partnership with Mentor Canada gives RBC NextGen members an opportunity to become mentors to people in the community. "We found that people are looking for ways to give back to both internal networks and use what they learned on the job to give back to their community," explains Mcleod. "Scaling the Mentor Canada partnership across the country helps people get involved and provides part of that sense of belonging we're looking to foster."
Photo: Adam Mcleod
As a part of their commitment to helping build relevant and impactful skills of the future, NextGen teamed up with John Stackhouse, SVP, Office of the CEO, for an in-depth, long-form conversation about critical skills of the 21st century. NextGen chapters in regions across Canada banded together to create watch parties for their members, which led to countless new connections and an informal camaraderie, opening a dialogue about how NextGen-ers are building their capabilities and their connections in a thoughtful and impactful way.
What's more, much of the value NextGen members get from the ERG comes from programming and events organized by Regional Chapters. A key initiative now is considering how the NextGen national team can make it easy to share best practices and "blueprints" of successful events across regions hosted by regional chapters so that NextGen members across roles in Canada can have access to the best ideas from around the world.
Opportunity, Access, Exposure
NextGen members have a lot to gain by participating in this ERG at any level or capacity. Verma and Mcleod emphasize the inclusivity of every initiative they launch in an effort to balance access to opportunities, networks and senior leaders. Plus, the ERG – like others at RBC – enables members to step outside their day-to-day roles and demonstrate skills they may not otherwise have the opportunity to do at this stage of their careers.
"In your day job, you only get to exercise a certain number of skills. But if you have other passions or talents, where do you show them, and how could those skills help you get your next role, perhaps in a completely different field of expertise? The NextGen ERG offers a wide range of opportunities – from data to business strategy, marketing and leadership – that you can tap into," says Mcleod.
Verma adds that the ERG operates similarly to a start-up, so anyone with an entrepreneurial mindset can innovate with few barriers in their way. "You don't have the risk that comes with losing a client or money on a project," she explains. "NextGen gives you that safe space to activate the entrepreneurial skills you may have and develop them."
NextGen, through its democratized access to leaders, networks, mentors, and friends, enhances employees' opportunity to challenge themselves to newer heights and get them noticed beyond their day jobs.
Adding Business Value
Verma and Mcleod also point out that the benefits of NextGen extend beyond the employees, as the ERG's work provides real business value to the organization and its leaders. "There is an element of 360 that happens," says Verma. "Leaders are willing to listen to new perspectives from early- to mid-career employees, which shows humility. Leaders demonstrate they are open to hearing from people who think differently from them, which contributes to a positive and inclusive culture at RBC."
Further, with 85,000+ RBC employees also representing 85,000+ consumers and clients, creating a sense of belonging within the workforce can translate to constructive feedback, client loyalty and employee engagement and retention. With ERG surveys and metrics in the works for the coming year, Mcleod and Verma are hoping to quantify the ERG's impact. "We would love to be able to say the NextGen ERG helps enhance employee engagement and sense of belonging by X percent," says Verma.
NextGen is made up of motivated, entrepreneurial, hard-working individuals looking to advance in their careers and advance the mission and impact of their ERG. With a National Cabinet and Regional Chapters, the ERG operates efficiently and effectively at corporate and local levels. And, with a newly formed ERG liaison role in place, they are looking for ways to work collaboratively with other RBC ERGs, helping them all become better, and ultimately affect an inclusive, equitable and welcoming RBC for all employees.