International Pride Month is a time when the world's LGBTQ+ communities and allies celebrate and support LGBTQ+ rights and freedoms. RBCs global Pride event featured keynote speaker Sam Rapoport.
Sam Rapoport is the Senior Director of Diversity, Equity and Inclusion with the National Football League (NFL), currently starting her 20th season working in football. Rapoport has dedicated her career to creating innovative business models aimed at enfranchising marginalized populations in sport. With this focus, she has worked to shift and progress diversity hiring in football. She is also a retired quarterback who grew up playing in girls' leagues in Ottawa and played in the women's professional league.
Rapoport joined RBC for their global Pride event, which was attended by employees around the world. In a candid conversation with Petra Haneberry, SVP, Functions Finance and Chief Operating Officer CFO Group, Rapoport shared her love of football, the struggles she faced growing up gay, and how she turned those difficulties into a fearlessness that drives her to push boundaries and advocate for progress and equity – not just for the LGBTQ+ community but for all underrepresented people in sports and beyond.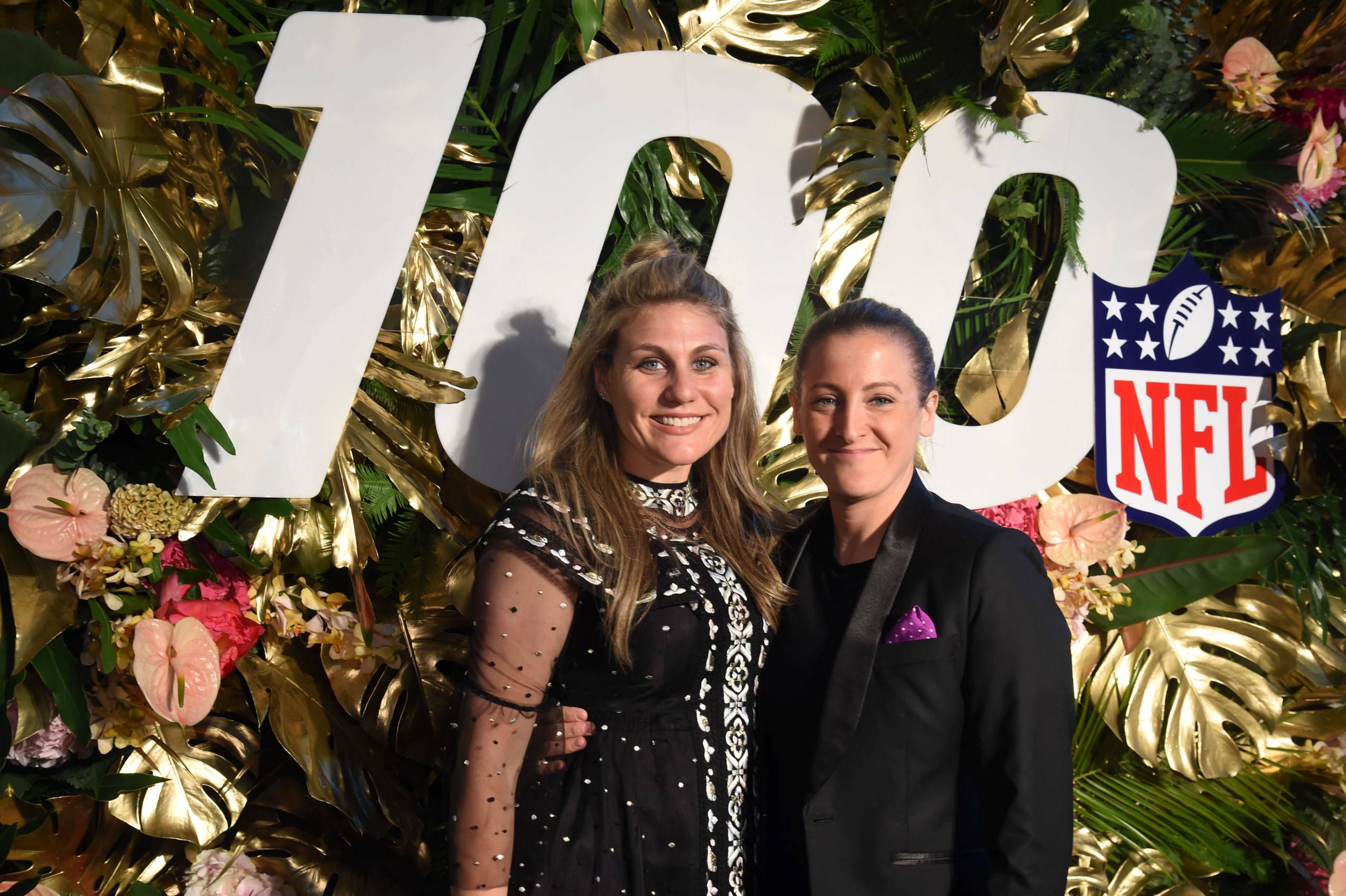 Turning a love of football into a career
Sam Rapoport started playing girls touch football as a middle-schooler in Ottawa. She fell in love with the sport almost instantly. "As a young girl, growing up having the confidence to feel really good at something was wonderful to have," she explains. So when women's professional tackle football started while she was in university at McGill, she raised her hand to play. "I threw on the tackle pads and gave it a shot," she says. "That was 21 years ago – I knew that I had to translate my love of the game into a career."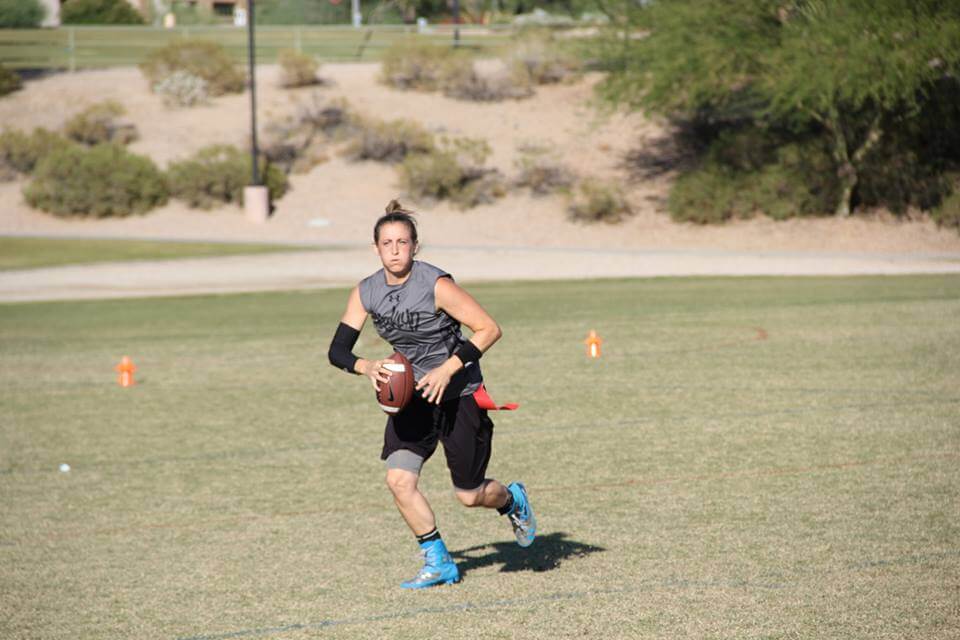 Rapoport got her first job in the NFL in an unconventional way. "Back then I was a young woman in Canada with no connections to the NFL whatsoever. I started thinking about what I could do to stand out and do something crazy so I could potentially get an internship with the NFL," she tells RBC. "I decided to send the NFL a picture of me in full tackle uniform and an actual football. On the football I wrote: What other quarterback could accurately deliver a ball 386 miles? which was the distance between McGill in Montreal and the NFL's New York City office." She admits she cringes a little telling the story now, as she wishes she could have gotten in the front door – but she found a way in the side door and stood out to someone, securing her first internship in 2003.
Breaking the glass sideline
But Sam doesn't want women to have to go in the side door anymore. Her primary role with the NFL today is to "break the glass sideline" and bring more women into coaching and scouting roles – through the front door. No easy task, considering the NFL is arguably one of the most male-dominated entities in the world. Rapoport explains that achieving this goal requires creativity and an unconventional approach.
"Six years ago, I looked around the NFL and I asked myself: Where are all the women? Where are all the female coaches, scouts and officials? We know our fan base is 47% women – so why is that not being reflected in the workplace?"
Rapoport cornered her boss – NFL commissioner Roger Goodell – while on the football field together, asking him to "hand her the ball", so to speak, and let her try to break this glass sideline and find a way for women to enter these very male-dominated roles through the front door. Goodell was very supportive and in 2017 the NFL Women's Forum was born – a program designed to introduce women to people who could put them in those roles.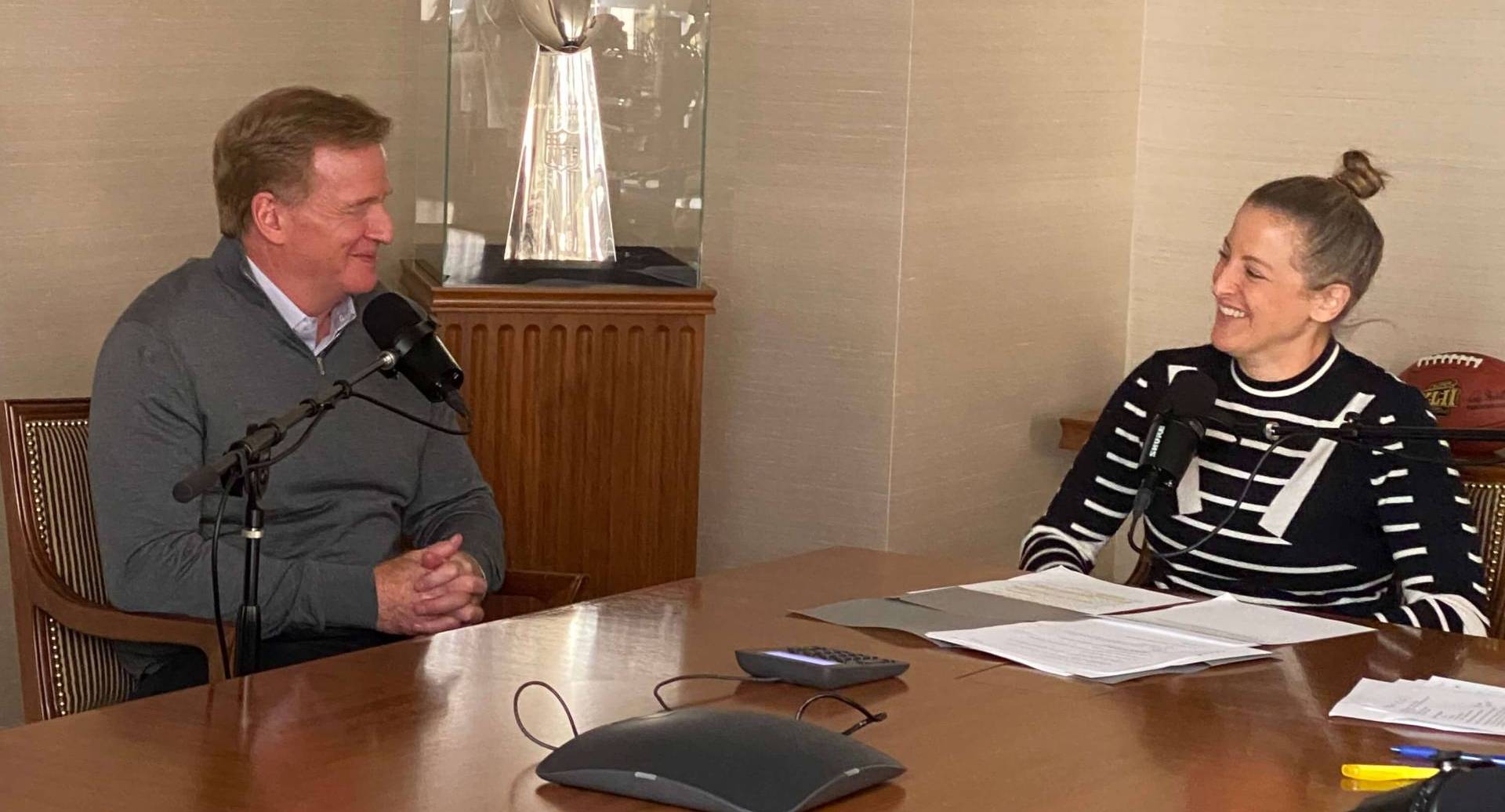 Every year, Rapoport and her team scour the continent for women who are currently working in entry level college football roles in the United States and Canada. The NFL accepts 40 women into the program whose goals are aligned with the NFL, the majority of whom are women of color. For two days, they meet with head coaches, general managers and owners, organically getting to know one another. The result is that jobs are offered on the spot.
"I hope that the NFL Women's Forum is not needed in a few years, and people start to know where to find people who are not like them," says Rapoport. "But in the meantime, we are putting the women in the room."
Coming out to the NFL
Part of Rapoport's mission is to create more opportunities for all people, however they identify. She shares that she has known she was gay since she was a child and following a youth of unhappiness and no sense of belonging, she aims to create an environment at the NFL where everyone feels welcome and supported.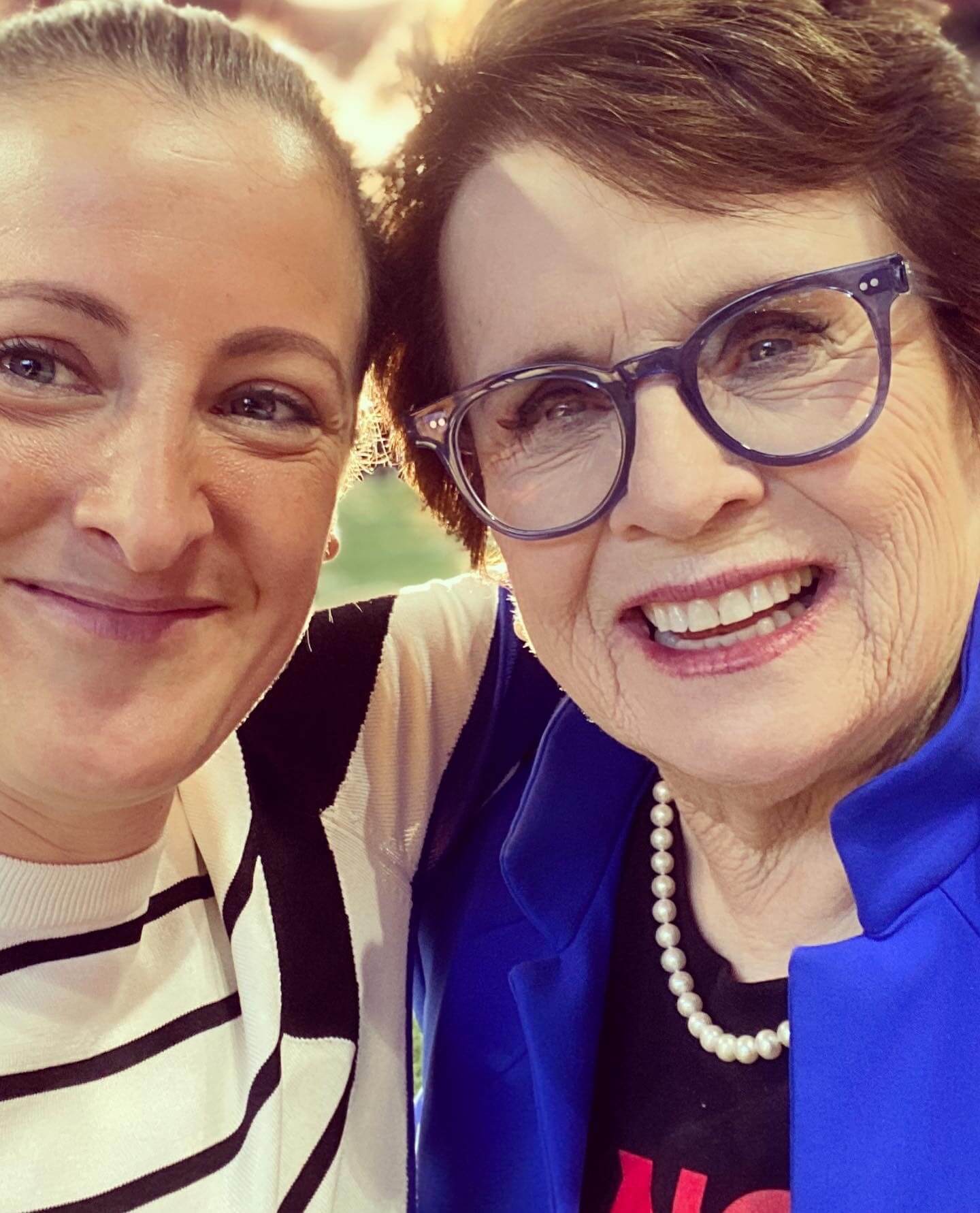 "I have known I was gay since I was five years old," says Rapoport. "And I struggled with it significantly. I was very, very unhappy and I really wanted my life to end. I always grew up wishing on birthday candles that my life would just end because I did not understand a world where I could be an out gay woman and live the life I wanted to." This mentality translated into a 'nothing-to-lose' approach to life and she reveals that it's a mentality that propels her now. "It's part of my superpower," she says. "I think the struggle I had growing up gave me the sense that it's okay to fail – so why not shoot your shot."
Still, it took Rapoport several years to come out to the NFL. She had spent nearly nine years there, during which time she avoided all social situations in the office, never going to holiday parties or happy hours because she didn't want to answer questions about who she was outside the office. But she had reached a boiling point and couldn't do it anymore. "I could either leave and move to Australia and leave sports, or find the courage to do it." The first person she told at the NFL was Commissioner Roger Goodell.
"And for all members of the LGBTQ+ community, you can relate to what I'm about to say, that coming out is forever. So when I'm meeting head coaches, general managers or NFL team owners, they don't know I'm gay. And so when we sit down, have a drink or what have you, it's a constant process of having to come out to different people who may or may not be okay with who you are."
Since then, the NFL has started to move the needle and reimagine their approach to the LGBTQ+ community. Two years ago, the league hired their first Chief Diversity Officer, Jonathan Beane, who decided they were going to advance in the space. Rapoport shares that one of the most moving moments of her career happened last season, when the NFL put out an ad called "Football is Gay." It goes on to say Football is Queer, Football is Transgender, Football is For Everyone. "We list everything," says Rapoport. "It's a very, very moving and powerful spot that many of our fans were very angry about because they didn't want to 'gay up' football. But we did. And it took courage from our leadership – in my opinion, that was not easy." She goes on to say that it was no coincidence that soon after the ad aired, the first active NFL player came out as gay – Carl Nassib then of the Las Vegas Raiders. "We are working to make the climate more comfortable for our players and for our fans to feel more connected to the sport they love," says Rapoport.
She gives another example of the "Rainbow Dads" who are huge Buffalo Bills fans. When the "Football is Gay" ad came out, they created a video with their son that said: 'We finally believe that we belong.' They went to their first NFL game, met the Bills owner and sat in her suite. "That's a small example of what happens when you make strong statements," says Rapoport.
Making the remarkable, unremarkable
Of course, not everyone is happy with the work that Sam Rapoport and her team are doing. "I'm not going to sugar coat it, there are head coaches in the NFL who don't want to be part of this. But part of our strategy in achieving this progress is we start with the people who care, and we ignore the people who don't. Where we have found the most success is by not wasting our energy on the people who are unmoveable."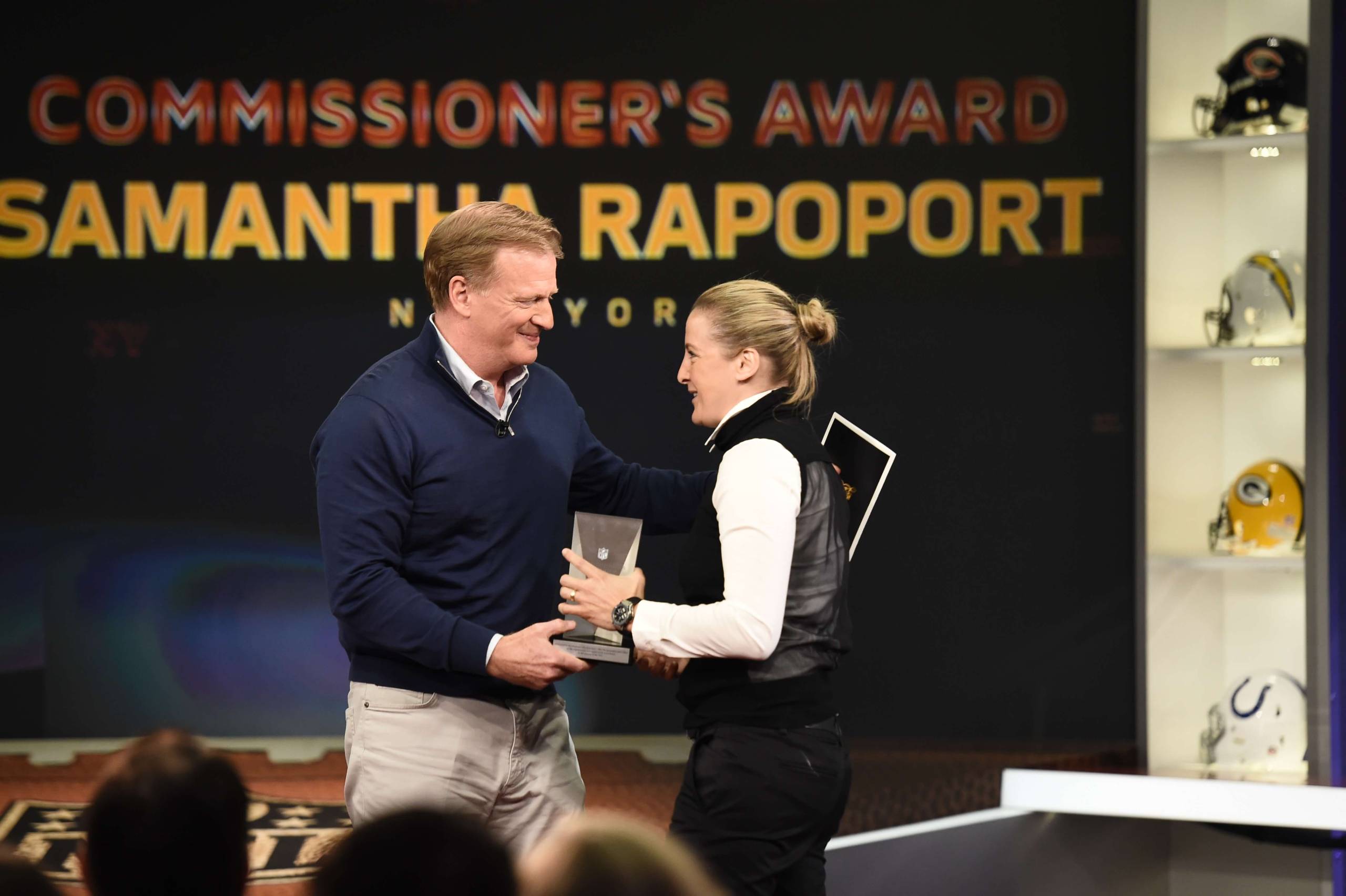 But the majority of the fans love seeing more women involved in the game and a league that is becoming more accepting to everyone. In fact, the more visibility underrepresented groups have in the game, the fuller the talent pipeline can become. "Representation is what causes young people to strive for what they see," says Rapoport. "The reason we don't have many women in our coaching pipeline is because girls are not growing up thinking this is a path for them. I'm a good example – I played football my whole life and not once did I ever consider coaching because it never crossed my mind that a woman could do it."
She adds the example of Sarah Thomas, the first female official in NFL history and the first woman to officiate in the Superbowl. "When Sarah was in college, the head of officiating asked her to tuck her ponytail up into her hat because he didn't want her to stand out and have to take criticism that men don't get. But what he didn't consider was the importance of her ponytail – when young girls see her ponytail flipping in the wind running down the sidelines on Sundays, they can see themselves in Sarah and think they can officiate too."
While the work Rapoport is doing is remarkable, she shares that she is working towards things not being remarkable – when there are no more "firsts." "The reality is we have to achieve firsts in order to get to ubiquity, which is our ultimate goal," she says, adding she looks forward to the day when female coaches and female scouts are just referred to as 'coaches' and 'scouts' – when having women in these roles is commonplace.
Rapoport's efforts have resulted in over 215 female coaching, scouting and operations candidates hired in a six-year period and the diversity platform she has created has been replicated by other professional sports leagues. She has recently been named one of Sports Illustrated Most Powerful, Most Influential and Most Outstanding Women in Sports; awarded the NFL Commissioner's Award; Fortune 40 Under 40; Outsports' Hero of the Year; and one of People Magazine's 25 Women Changing the World. Through her fearlessness and passion, Rapoport is advancing equity and inclusion for Women, BIPOC individuals and the LGBTQ+ community, demonstrating there is room for everyone when people start to make space. And that even in one of the most male-dominated organizations in the world, progress can happen when even one voice of change breaks through the glass sideline.