RBC's Meg Zucker has been described as a 'mom on a mission" to build a more empathetic world.
This article was originally published in RBC News & Stories.
The first time Meg Zucker recalls seeing anyone who may have shared the same genetic condition that left her with one finger on each hand, shortened forearms and one toe on each foot was at a summer carnival.
Among the rides and games, she writes in Born Extraordinary: Empowering Children with Differences and Disabilities, her book recently published by Penguin Random House, "There was also a freak show" which included a "middle-aged man missing fingers and toes." Meg stared in horror and before she could look away, he gave her a glance as if to say: "you're like me."
If it weren't for the unconditional love and support of her parents, who did not share her condition, Meg may have looked at herself in a different light after that encounter. "When the world takes one glance of you and reminds you of everything you aren't, you need to rely on a constant reinforcement at home of everything you are," she says about her home life.
The countless stares and assumptions about her abilities certainly had their effect on Meg growing up, but the Wall Street lawyer, who now oversees U.S. anti-money laundering and financial crimes activities for RBC developed a mindset that helped her focus on self-love and acceptance.
"I was living my own version of normal, until I had children," she says. The genetic condition, ectrodactyly, was passed on to her two boys. The Zucker's adopted daughter faces her own invisible differences, including ADHD.
"As hard as it was to have people staring at me, when the same identical conduct happened with my kids, it was way worse to endure. My motivation to advance acceptance, understanding, tolerance and respect for people's visible or invisible differences stems from being a parent."
Meg has aptly been described in the media as a "mom on a mission" after a series of thought-provoking interviews and articles began to appear after one of her sons was bullied at school. And, ever since, educators to executives invite her to spread her message of empathy and empowerment to audiences across the country.

Photo: Meg has aptly been described in the media as a "mom on a mission."
In 2015, Meg set her sights on creating a national 501(c)(3) non-profit, Don't Hide It, Flaunt It (DHIFI) that would encourage people of all ages to celebrate their differences. Her employer, RBC, helped provide the seed money.
"I was about a year into working at the bank. No other employee had approached the RBC Foundation to help create a nonprofit in the US. It must have taken some blind faith in me. But my employer's generosity went well beyond the money. I've benefited from the love and support of my colleagues."
DHIFI offers customized school programs and assemblies. For example, hundreds of thousands of students have participated in an annual nation-wide essay contest centered on a theme Meg developed, "the things that make me different make me, me. "DHIFI also offers community service programs for youth, corporate diversity, equity and inclusion presentations, programs, services, and training.
RBC Stories caught up with Meg in Chicago, prior to a book tour engagement promoting Born Extraordinary. The book aims to give parents "the necessary ingredients to help children born different or experience challenges because of real or perceived differences to live up to their full potential."
Born Extraordinary is full of personal experiences and candid details of living with and parenting children with your genetic condition. What first prompted you to share your story?
Years ago, when I was planning to go to a school reunion, I learned that a friend I was hoping to see wasn't coming. I was told she had gained weight and didn't want to be judged. It occurred to me that I walk this earth looking blatantly differently but I ultimately had arrived at a place of unconditional self-acceptance. And I can tell you it's a much more beautiful experience than worrying about what others think about you. That's why I began writing for magazines and newspapers and ultimately, my book, Born Extraordinary.
Where did you draw your insights and inspiration for the book?
When I learned I would have a child born with my condition, how I wished that my parents had written a guidebook in the way they empowered me. There is also an entire chapter dedicated to family relationships in a home with a child that is different or disabled. My relationship with my two brothers growing up as well as observing interactions between our sons and their sister provided its own insights. Also, based on all the work I have been doing for over a decade for DHIFI, I have met so many incredible parents and caregivers that inspired me to include their own stories and words of wisdom. I began to realize that although the book started out as a memoir years ago, the best approach was as a tool to empower other parents.
Dividing people by their differences seems so ingrained in humanity. Can empathy really win the day?
I think when people have the opportunity to connect not because they share the same difference but rather, when they discover that they can invariably feel the same when others make assumptions or judge them or their families, that is the building block toward empathy and understanding — and hopefully, unconditional acceptance of ourselves and one another.
Your foundation has helped spark a movement for empathy in the US. Are you surprised by the public response?
When our oldest son was in the 1st grade, he was bullied on the playground by a group of 4th graders. The principal invited me to speak to her faculty. The goal was to help them support kids like our son who shares the same genetic condition as me. The meeting went well. But something kept gnawing at me after I left it. I wondered 'how I could reach all kids willing to taunt my son?' That's how I started Don't Hide It, Flaunt It (DHIFI) and the social emotional learning and empathy programming for students.
Back then, discussions of diversity and inclusion were not prominent at all so, if anything, I was not surprised that tens of thousands of teachers and students have participated in our programming year after year. There's such a hunger for this type of activity and discussion be included as part of the classroom conversation.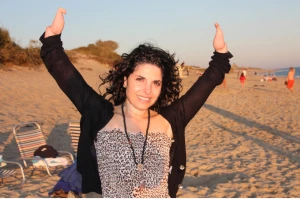 Photo: "I walk this earth looking blatantly differently but I ultimately had arrived at a place of unconditional self-acceptance," says Meg.
But one can't be complacent?
To be sure. Kids who are different, whether visible or an invisible, are starving to become a someone from a something to their peers. But I still have other kids run up to me and say 'oh, I'm not different. Not me.' So empathy programs need to be ever-present in our childrens' lives.
I'd also say many parents are less worried about their children being bullied than having no friends. It's great when my kids are treated kindly at school, but its more meaningful if they are welcomed into groups, invited to the birthday parties, and so forth. That only happens when people take the time to accept and understand differences, and even more so, see the commonalities through them.
You write that fear is a big roadblock in living a fulfilled life. Can you explain?
If love and self-love are the key elements of empowerment, then for me, the worst enemy is fear.
Fear is based on external judgment, being consumed with what others are thinking. We can't be everything to everyone and still be true to ourselves. The more we try to please other people, the less we can find our authentic selves. Our decisions and behaviours are guided by what others see in us, not what we see in ourselves.
The same is true as parents of a child that's different, especially in the physical realm. My parents resisted the urge to over protect me or prevent me from experiencing failure. But they didn't sugar coat things either. They would let me know their views on what I may or may not be able to do. I blossomed in response. Living my fullest life began when my parents, then I, found ways to cut out the external noise.
DHIFI offers programming, workshops, webinars and events for people of all ages. But talk to us about what we – as adults – can learn from the youngest children who have shared their experiences with your non-profit.
Children often don't hesitate to speak their mind when they are curious about the difference of another. Their questions and comments are a great! Because it allows natural curiosity to govern. The kids can engage and then move on. Adults are much more hesitant to approach a topic they fear might offend. That can be a missed opportunity for empathy and understanding.
What is your take on how social media is helping/hindering your efforts to build a more empathetic world? As a parent, what kind of strategies do you use for your kids?
In Born Extraordinary I give an example of a parent of a child with special needs who found being on social media excruciating. He kept seeing postings from friends and family of the progress their children were making and his son was delayed in many respects. He needed time to take a break and gather his own mental strength to learn to embrace his new normal.
That said, I also write about times when I admittedly avoided opportunities for my boys to spend time with other kids in the limb different community. Upon reflection, it was a missed opportunity for them. There are similar safe social media groups for so many groupings of people/families who even get together in person and in that sense—I think this aspect of social media of connecting people so that they/their kids know they are not alone in their personal journey is priceless.
DHIFI is a serious side hustle. So is your work as an author. How do you manage to find time? What lessons can you offer readers who are inspired to serve their broader community?
I joke that in addition to having ectrodactyly, I also inherited other genetics from my father's side of the family, like not needing as much sleep as most people. I probably watch far less tv or stream shows than most—at least on a couch—I only watch them if I am working out.
But the reality is—my "side hustles" as you call them – are purely a labor of love. If I look so blatantly different but authentically not only accept my lot in life but even see it as a gift that has brought me the most wonderful opportunities to grow and impact others—it is truly very easy to prioritize.
As for people who wish to serve their broader community, I have heard from a lot of younger people that if they pursue other interests than their job, they will be perceived critically and not adequately focused. My advice is to find ways to serve the broader community and see how it can even impact who you are when you come to work. When we are giving back or feeling fulfilled, we come to our jobs as the best version of ourselves.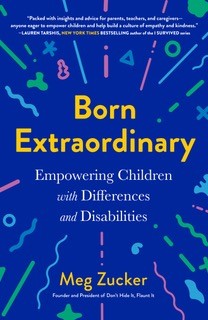 Photo: Born Extraordinary aims to give parents "the necessary ingredients to help children born different or experience challenges because of real or perceived differences to live up to their full potential."