June is National Indigenous History Month – a time for all Canadians to reflect on the history, culture and contributions of First Nations, Inuit and Métis people. In celebration, RBC welcomed Indigenous artist Buffy Sainte-Marie for a candid conversation about courage, music, truth, reconciliation and joy.
Buffy Sainte-Marie is an Indigenous Canadian-American singer-songwriter, musician, composer, visual artist, educator, pacifist and social activist. Recognized and celebrated as one of the most important and impactful Indigenous artists of all time, Buffy has won multiple awards (including an Academy Award and Golden Globe Award) – but most importantly has inspired multiple generations of musicians, artists and advocates over her six-decade career.
In a discussion during RBC's National Indigenous History Month event, she shares her insights, experiences and perspectives.
"I don't feel courageous at all."
Over her career that began in the 1960s, Buffy Sainte-Marie has unapologetically shown up with authenticity and unfiltered sincerity. When asked where she has found the courage to do so, she replies, "I don't feel particularly courageous at all." Acknowledging that she sees a lot of problems in the world that break her heart, she only knows how to solve them little by little, step by step. "If I get an opportunity to help, I go for it," she says. "When you're motivated to learn or help, it's not courage that's working – it's some kind of bigger love."
She encourages others to "spend time doing things you love, with people you love, and you'll be motivated [to make a difference]."
"We have a true diaspora."
Connection and community are a large part of the way of life for Indigenous people. But as Buffy explains, many Indigenous people don't know where they come from. "We have a true diaspora. We have [Indigenous People] all over the place, but don't know where they are from. Nobody was keeping birth records for us. They didn't get written down in residential schools – our generations have been broken."
She adds that having been raised outside of her culture (Buffy was taken from her parents at age two or three as part of the Sixties Scoop), she appreciates it from a different angle. "I was raised in a community where there was only one other Indigenous person in town. It wasn't until I was a grown up when I was taken into the family of Emile and Clara Piapot in Saskatchewan that I got to know what traditional life was like."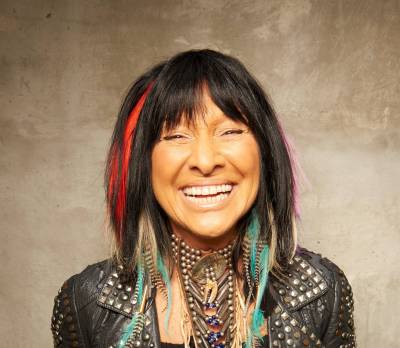 "You can't be a musician. And you can't be Indigenous."
When she was a little kid, Buffy was told that she couldn't be a musician, being dyslexic and unable to read music. Like most natural musicians she played by ear. "I was told by authorities that I would never be a musician. I was shunned and shamed. I was also told I couldn't be Indigenous, because 'there aren't any more around here' in Maine and Massachusetts. They should have broken me, but they just made me laugh," she says. "For me, I had serious proof that grownups are sometimes wrong. And I've kept that with me all the time," she says.
It's a resilience that Buffy has maintained throughout her life, even before she was a musician. Before she was ever on stage, in fact, she was a teacher, having earned a degree in Oriental Philosophy and degree in teaching from the University of Massachusetts. She feels that her experience teaching gave her a different perspective compared to other artists of her time. "I really wanted to find a solution. And my music was one way to do it." Her song 'Now That The Buffalo's Gone' was inspired by an incident in Jamestown, New York, where a Seneca reservation was about to be flooded to build Kinzua Dam. While she had hoped listeners would acknowledge the pain her people suffered, it reinforced stereotypes and didn't create the awareness she wanted. She explains that audiences thought that "the little Indian girl must be mistaken."
Instead of backing down, she recorded songs like 'Indian Cowboy in the Rodeo' because she was interested in shining a spotlight on the beauty of her people and culture.
"We need to talk about more than the horror stories."
Buffy has continued to highlight the positive history and culture of Indigenous people, both on and off the stage. "All we hear about is our horror history, which needs to be understood. We need to be talking about it. But nobody's talking about the other stuff," she says. "What a difference it would make for some children in Canada or in the Americas when it's hockey, baseball or football season, if they knew that team sports were invented on this side of the water. Even in the Greek Olympics, they were all solo sports – Indigenous people invented team sports, they invented not only rubber and the rubber ball, but also the stadium with bleachers on either side. The goalposts on opposing sides, shoulder pads, knee pads and helmets with animal logos. And what a difference that would make to a kid sitting in the backseat of a car every hockey season, to know that."
Through her Cradleboard Teaching Project, which Buffy founded in 1996, she enhances existing school curricula with enriching and exciting teachings of Indigenous people, aimed at building positive relationships with Indigenous and non-Indigenous students. Buffy emphasizes the need to add laughter, curiosity and sharing into education, which Cradleboard does. "School should never be boring," she says, adding that the standardized school curriculum is solely Eurocentric, which it doesn't have to be. "We write curriculum through Indigenous eyes and ask our local partners from reserves to create something from their own position. We can handle geography and government and science – but when it comes to local stuff, local Indigenous people are 100% in charge of it. They own their materials."
Buffy adds that looking at science, government and geography through Indigenous eyes does not have to involve tearing down institutions. "We don't need to tear those big institutions down – what we have to do is provide something to make it better and fit into the world we're living in," she says, explaining that Cradleboard is not only supporting Indigenous kids, but supporting all kids by providing core curricula through Indigenous perspectives. "We have to stop being that dream catcher on the wall of the after-school program. In my circle, Indigenous educators, we know what time it is. We know what's going on. We know we've got the goods to fix this thing."
"Keep your nose on the joy trail."
When asked what message Buffy had for the Indigenous employees who had tuned in, she said, "Keep your nose on the joy trail to stay motivated. If you want to become involved with Indigenous people, you don't have to enter at the point where it hurts most. Mostly, I would advise don't get discouraged, don't get burned out. Don't stay up every night, agonizing over stuff. Everybody's ripening, everything's evolving, everything's changing. And if we're smart, things are going to keep on getting better. But keep your nose on the joy trail and seek happiness."
And asked for her message to non-Indigenous employees, she replies that it wouldn't be much different. "My advice is the same for non-Indigenous people as it is for Indigenous people. If you care about something, take care of it. If you want to make the world better, give it a shot. Don't burn out, just keep your nose on the joy trail and keep learning. If you want to serve, you'll find a way."