RBC's Meghan Hines writes about victory, defeat and the joy of community at the PowerHockey World Cup.
This article originally appeared on News & Stories.
Canada enters its second PowerHockey World Cup tournament as an underdog.
It's a position Meghan Hines relishes. A three-time national team member, she explains that players will need to make big adjustments to their game, as international matches incorporate rules from professional soccer and ice hockey. The nets are lower to the ground and wider than North American regulations. There are no off-sides in international play, which encourages longer passes and makes the game more fluid. It also permits players to use sport wheelchairs which travel at speeds up to 15km/hr and can spin on a dime compared to everyday power wheelchairs.
But Meghan, who has averaged more than a point per game playing for her Toronto-based club since 1999, says the ability to persevere and adapt off the court helps build character on it. "You just need to find ways to push through. It may not always end up the way you want to, but at least you can learn from any experience and improve."
There are approximately 250 PowerHockey players in Canada, and a growing presence in countries around the world, particularly across Europe and Australia. (This year's tournament, held in August, included 10 nations.) The sport's global popularity is easy to explain, says Meghan, as the game epitomizes the spirit of inclusion, finding ways for people with a wide range of abilities, ages and gender to be better together.
The game's social aspect is also a big attraction. Meghan describes the Toronto team she plays for as her "PowerHockey family," which also includes her fiancé and national teammate, Ramin Raunak. "Being able to meet and learn from people with similar disabilities, especially when I moved up into our senior league, helped me navigate living with a disability."
The cost to play, let alone participate in major competitions, can be prohibitive, however. That's why Meghan greatly appreciates her employer's support, sponsoring Team Canada's participation in this year's World Cup tournament, held in Switzerland. "To have the backing of a global brand like RBC not only helps reduce the financial strain on our players, but helps tell people around the world that PowerHockey has arrived on the global scene, and it is thriving."
Meghan is also the current President of PowerHockey Canada, a national parasport organization focused on the growth and development of PowerHockey nationwide. She kept a journal during the tournament, which she shared with RBC Stories.
Pre-tournament
It was like Christmas morning for me!
Thursday afternoon was the big day my teammates and I had been waiting for — it was finally time to get on the plane and head to Switzerland for the 2022 Powerchair Hockey World Cup and represent Canada. After a 2-hour delay and what felt like a never-ending flight, we finally landed in Zurich and were greeted by tournament representatives. We were led to two Greyhound-sized buses with the tournament logo on the side. Seeing this made it all start to set in …
After a restful sleep, it was time to get to work. While the day was full of practice time, it was also finally the day myself and my teammates received our sport chairs! We don't currently have any manufacturers in Canada, so our team had to rent the chairs while in Europe, and some of us decided to purchase them, myself being one. It was like Christmas morning for me!
It took some getting used to as the chair definitely drives a lot differently than my everyday chair, but I found I was able to get comfortable pretty quickly.
One of the best parts of tournaments is getting to know the other teams and sharing the amazing experience together.
After our morning practice, we had the afternoon off so we all decided to take the train to Lucerne, the closest major city, and experience a bit more of Switzerland. The train provided some great views of the mountains, and when we arrived in Lucerne, we were excited to start exploring. Unfortunately, much of the city was cobblestone which wasn't so fun to drive on in a power wheelchair! But we didn't let this stop us from walking around, having a great lunch of cheese fondue and picking up some souvenirs for friends and family, which of course, included some delicious Swiss chocolate!
When we got back to the tournament venue, we spent the evening with our team but also reacquainting with friends from other teams and meeting new ones. This is one of the best parts of tournaments, getting to know the other teams and sharing the amazing experience.
Day 1
As they finally introduced 'Team Canada' I got chills!
Driving onto the competition court for the first time and seeing the stands that would be full of people later that night made it all feel so real. Because of the busy schedule, we only had about 30 mins on the court.
Later that day, everything officially began — it was time for the opening ceremonies. As all the teams lined up, the energy felt amazing with the stands full of supporters. As they finally introduced 'Team Canada,' I got chills! Following the opening ceremonies was a game featuring a match-up of Switzerland, the home team, versus Italy, the defending 2018 World Champions. This was a great game to watch from beginning to end, with the skill and intensity of each team on display as each had something to prove. In the end, Switzerland came out on top with a close score of 5-4.
In addition to enjoying the game, we also had to watch it with a critical eye as we would be playing both of these teams throughout the tournament. With this tournament only being the third time we've competed under the International rules, and the last time being in 2019 due to the pandemic, we still had a lot to learn.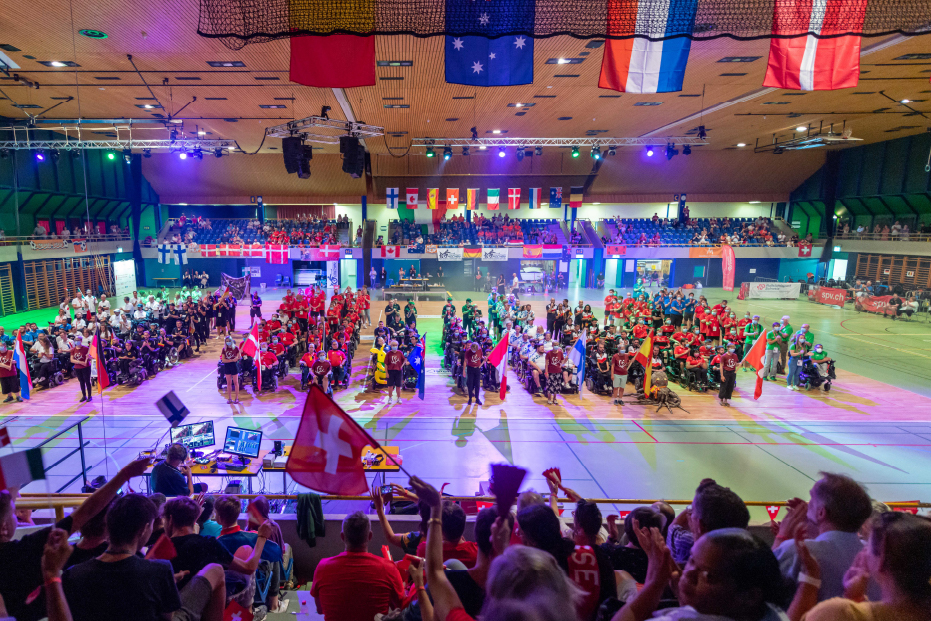 Photo: "As all the teams lined up, the energy felt amazing," writes Meghan
Day 2
Luck didn't go our way in the drawing ceremony.
Wednesday was the big day — our first official game! We didn't expect any of our games to be easy as we were the underdogs of the tournament, but also, luck didn't go our way in the drawing ceremony as we were in a tough pool for the round-robin. It included Italy, the defending champions; Switzerland, the home team; Belgium, a tough and very experienced team; and the Netherlands, one of the most experienced teams. The Netherlands has thousands of players in their country and has placed in at least the top, if not winning, many of the previous world championships. Regardless, we were determined to put up a good fight every game — from the first to the final whistle and never give up in any game.
The game ended with a score of 14-0. While a tough loss, we received consistent feedback from other players, coaches, spectators, and even the game commentators that we had improved since the last time we played these teams in the 2018 World Cup.
Day 3
My RBC manager back home had arranged for a viewing party at our office.
Thursday was another tough game — playing the Netherlands! This was an intimidating team to play with their significant experience and success over the years. They were all very kind, though and encouraging of us. One of the players even helped make the t-sticks that a few other teammates and I were using with our sports chairs — we had never made this style stick before. Unfortunately, the game ended with a score of 31-1. This sounds rough (and it was!), but some positives came out of it. When we last played them in 2018, we lost 33-0; so on a positive note, they agreed we improved over the years: we scored a goal, lost by less, and one of their goals was scored by a t-stick player (someone who attaches their stick to their chair like myself) which counts for 2 points. In the end, the goal differential was 29, not 33! (I know it seems like I'm really stretching things, but looking at the bigger picture, they were the team to beat and won most of their games against other experienced teams by huge margins.)
On top of this, one other exciting factor was that my RBC manager back home had arranged for a viewing party at our office! This was such a kind thing for her and my colleagues to do and be part of. Before the game, I received messages of encouragement and saw some fun pictures of all the supporting signs they made and everyone cheering us on! While I wish we could've put on a better showing, knowing that my RBC family was all supporting us made me feel so proud and happy and it truly helped motivate me not to give up during the game, no matter how tough it got.
Day 4
We had to learn from it, move past it and look to our final game.
Friday was a busy day with two games, our first being against Italy, the reigning Champions. While another tough loss of 15-1, again, some positives: in 2018, we lost 22-0, and we again scored another goal in this game. These positives may not seem like a lot, but when we are so new at this version of the sport and only just got our sports chairs less than a week before, they count a lot.
Our final game of the day was against Belgium, a team we had lost against in 2018, 13-1. This game was intense and was much closer than our others — we wished we had this as our first game of the tournament to give us some more positive reinforcement on our progress! The first half ended with a score of 0-0, there were some tough battles, and we were super proud of our performance thus far. A few minutes into the second half, Belgium got their first goal. Unfortunately, later in the second half, due to some referee tough calls, Belgium got two more goals from penalty shots. It was a really close game but ended with a 3-0 loss. While this was a game we thought we could've won, we had to learn from it, move past it and look to our final game of the tournament the next day against Australia.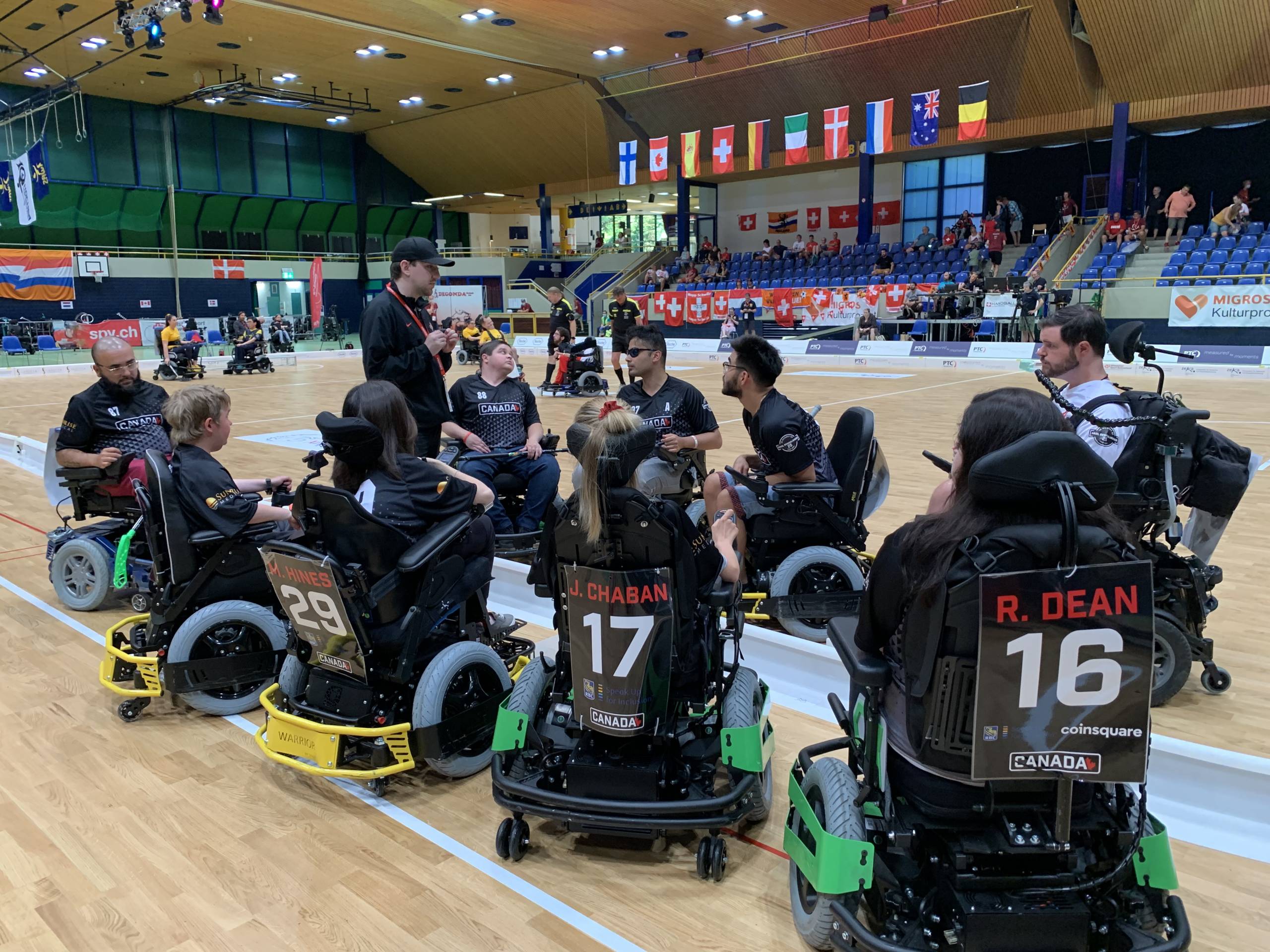 Photo: "Our coaches gave us a tough motivational talk during halftime," writes Meghan.
Day 5
We came out on top.
Off the court, we were probably closest with the Australian team, having travelled there in 2019 to compete in the Australian National Club Team Championships and staying in touch with many players and supporters over the years. However, on the court, they were still a competitor to beat. While we had won 4-2 during our 2018 game, and our two teams came third and forth in the 2019 tournament, they could not be underestimated. Australia has played this sport for years and added some strong new players to their roster. The first half ended in a score of 1-0 for us. While we were glad to be in the lead, we were not going to get comfortable; we knew they could easily come back. Our coaches gave us a tough motivational talk during halftime, something we needed! Ultimately, this fueled us even more, and we came out on top with a score of 8-2! We were very proud of this, and it felt great to end the tournament with a win.
Day 6
I wouldn't be the person I am today if it wasn't for PowerHockey.
For us, the tournament had finally come to an end. Unfortunately, we didn't have any games on the tournament's final day, but this meant we could continue to watch and learn from each of the final games.
These final games — particularly the Bronze (Switzerland versus Finland) and Gold (Denmark versus the Netherlands) medal games — were intense and amazing to watch! The home team took bronze with a final score of 5-4.
As for the gold medal game, while many expected the Netherlands to win, Denmark, the 2018 second-place team and also, like the Netherlands, an undefeated team throughout, ended up coming out on top in a final score of 4-3. The game could've gone either way, and both teams played amazingly. Following the games, it was time for the Closing Ceremonies and the final farewell dinner, one of the events everyone looks forward to as it is a time to relax, enjoy some good food and reminisce on the tournament with teammates and new friends from other teams.
While we had hoped for a better outcome, we had to be proud of our performance overall and remember that this is just the beginning of our journey. This was only the third time we had competed in a competition with the international version of the rules, the last time being three years ago pre-Covid.
While we had trained a lot, we were still very new to the sport. Gaining experience through tournaments is a huge part of player and team development. We were also consistently congratulated throughout the tournament on our progress, with the top teams like Denmark and the Netherlands saying that they were also in similar positions to us when they first started, but look at them now. Since the tournament, many coaches, players, and individuals from the powerchair hockey governing body have reached out, offering their support as they truly believe our team has potential. As President of PowerHockey Canada, me, my fellow Board members and the Team Canada Coaches are all motivated to find ways to develop our team over the next 4 years so we can be even more prepared for the next World Cup. We often comment that this is part of an 8-12 year plan, and this is only the beginning!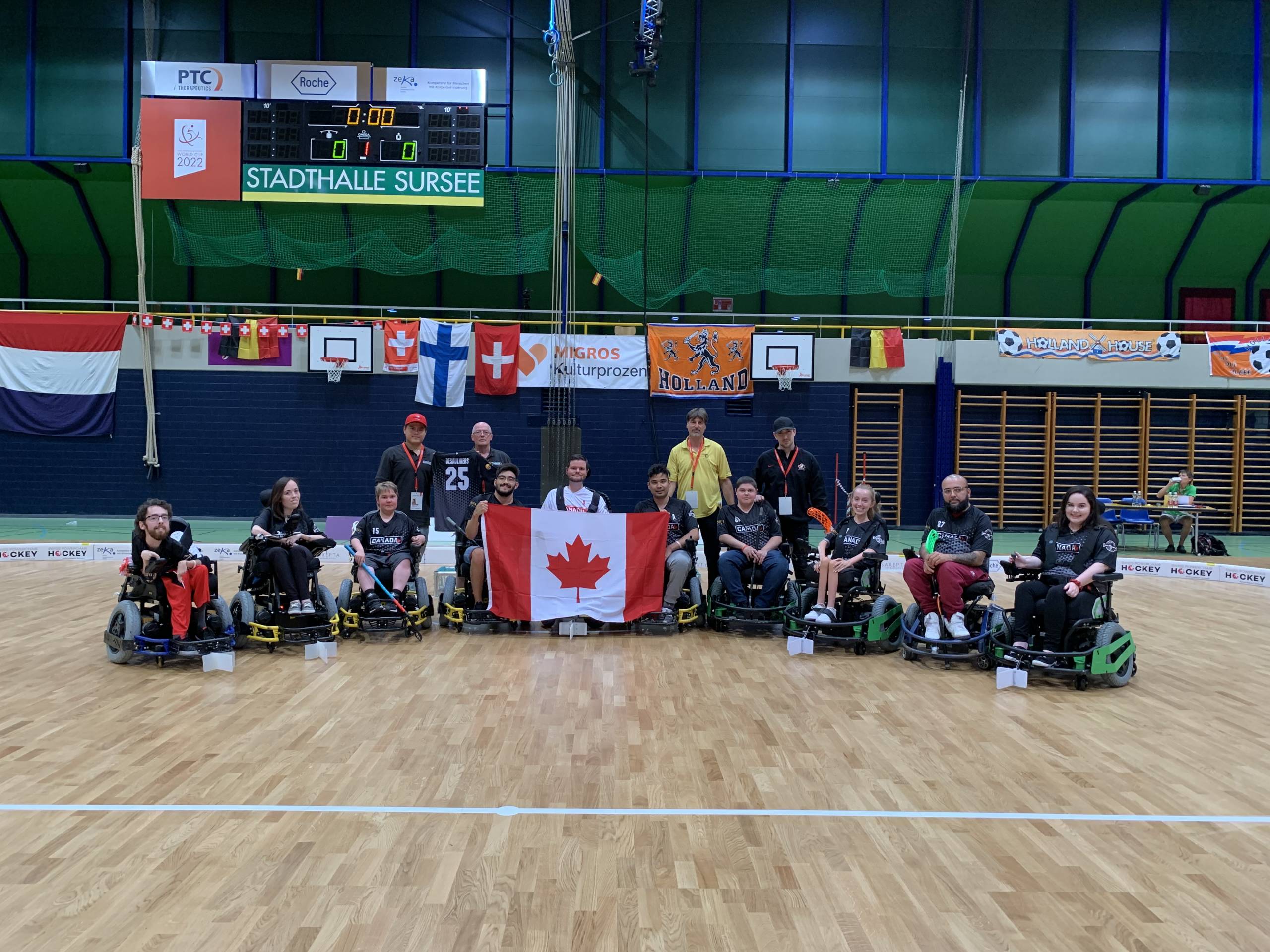 Photo: This is only the beginning …
Outside of the gameplay, being part of a tournament of this magnitude and meeting so many players from around the world is truly special. It is one of the main reasons I started and have remained involved in the sport since I was 9. The sense of community, the individuals I have met and been able to share common experiences of living with a disability, and the amazing opportunities I have been fortunate to have as a result of playing this sport have been truly life-changing. I wouldn't be the person I am today if it wasn't for PowerHockey; I wouldn't have my second family — my PowerHockey family, as many of us call it — if it wasn't for this sport. And for that, I am so grateful and excited for what's to come for me as a player, my team, and the sport across Canada and internationally!
Diane Amato is a Toronto-based freelance writer who loves to talk about finances, travel and technology.