Many colleagues in RBC Capital Markets U.S. are members of the Pride ERG, which reflects an eagerness for LGBTQ+ individuals and allies to create an inclusive, empowering and safe environment for all. Active within and outside RBC, Pride contributes to meaningful change in the workplace and community.
In a recent conversation, Pride US Capital Markets ERG co-chairs Chris Louney, Donna Prince and Joe Cole share the exceptional events and initiatives they lead in support of their mission. "Our ERG aims to make sure we're creating an environment where LGBTQ+ employees can bring their whole selves to work, regardless of their identity," says Chris, who joined the ERG in 2015. "That involves creating community, offering education to allies, recruiting new people at various levels and creating membership connectivity across the U.S.," he adds.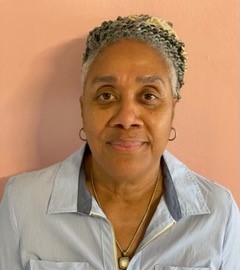 Donna, who was among the RBC employees who helped create the Pride CM US ERG in 2011, has seen the group evolve significantly over the last twelve years. "In the beginning, there weren't many people who were willing to raise their hands to say they were part of the community," she says. "Now I can say we're probably 200 degrees away from that – we have a lot of people in the group, including members of the community and allies, who are willing to step up. Our membership has grown explosively."
Joe, a member since 2013 and recent co-chair, adds that buy-in from managers and allies has been integral to the group's rising profile. "A lot of people join from other banks, where their version of a Pride group is more like an internal networking group, and not necessarily bank-wide or open to everyone," he explains. "Our ERG isn't exclusively for LGBTQ+-identifying people – it's also for allies. I think the fact that 25-30% of the U.S. headcount is a member of Pride is a sign that we are different."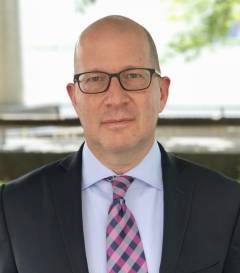 Pride's Role in Creating an Inclusive Workplace
"Pride, as a group, has shown that you can be out and have a career at RBC," says Chris. "While there is more progress to be made in Corporate America, we hope that people feel they have the space to be out, and they understand what it means to be a proud ally."
Chris credits some of the events they have held in recent years to the enhanced profile of Pride and its ripple effect on workplace safety, community and sense of belonging.
"We've really hit it out of the park with our Pride Month keynote speakers over the years," he says. Three years ago, for instance, actress and LGBTQ+ advocate Laverne Cox spoke at their Pride Month event. "She gave a lot of insight, particularly on the challenges that trans people and trans people of colour face – not just in media but in life," Chris explains. Comedian Margaret Cho also spoke, and offered insight into her story, which was especially poignant given the news coverage and horrifying examples of how Asian-Americans are facing increased violence in the U.S. "It really opened people's eyes to intersectional identities," says Chris.
Donna adds that they have also hosted numerous presentations that have had excellent response and impact. "We've partnered with parents of LGBTQ+ individuals, as well as seminars with senior leaders, to provide guidance on how to support children or employees who are either trans or going through hard times related to their identities," she explains.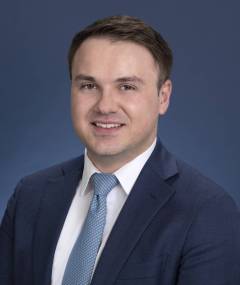 Chris points out that the group specifically reaches out to managers when promoting events, because they feel it provides a permission structure for people who are new, and/or who don't feel comfortable stepping off the desk to attend events. "We leverage the senior leadership network and get them engaged so we can reach a wider audience," he explains.
Community Partnerships
Beyond the programming Pride leads within the organization, the team is active in the community as well. One of their most recent partnerships, in conjunction with the RBC Foundation USA, is The Trevor Project, whose mission is to end suicide among LGBTQ young people. "We have also consistently worked with a number of local organizations too, we have held resume workshops through various programs and raised funds for a pantry for some of the youth these organizations serve," explains Chris.
The team also supports The Center, which provides programs for health, wellness, community and connection for New York City's LGBTQ+ community. "As you can imagine, in New York City, there are a lot of people who need services and youth who don't necessarily have somewhere to go," says Joe. The Center is there for their health and mental support." One of the key things RBC has taken part in is the Cycle for the Cause, which is the Center's annual three-day, 275-mile charity bike ride from Boston to New York City that raises money to fund the fight against AIDS. "I was part of the team last year that raised about $90,000 for The Center," says Chris.
The team also works closely with Out for Undergraduate Business Conference, which is an organization that provides mentorship, seminars, and recruiting opportunities for high-performing LGBTQ+ students across the country. RBC Capital Markets is also a global sponsor of Out Leadership's OutNEXT, the world's only emerging LGBTQ+ talent accelerator. "It's meant to educate and prepare rising LGBTQ+ leaders – not just at RBC but across finance, law, consulting and corporate America – to help grow the next generation of leaders," says Chris.
Contributing to Meaningful Change
Perhaps one of the most meaningful initiatives of the Pride ERG is their partnership with the RBC Law Group's Diversity, Inclusion and Community Engagement Committee to sign on Amicus briefs that go in front of various state and federal courts in support of LGBTQ+ equality. The first one, which Donna was a part of, focused on marriage equality. Since then, they have supported other state and federal cases around employment equality and the rights of trans and non-binary people. "Our actions in these areas are reflective of RBC's desire to have a more inclusive workplace and society," says Chris.
Joe adds that the message their activity conveys is particularly compelling given RBC Capital Markets operates largely in the sphere of financial markets and corporate boardrooms in the U.S. "Signing these briefs is clearly not a PR move – we're not doing this to attract more retail clients, this is rather a sign of the bank's values. It's a genuine message that this is who we are and what we believe in."
With a growing and active membership, and engagement across offices in the U.S., Pride is making a positive impact on many levels. Open to everyone, Pride models inclusivity for all identities within RBC, in their local community and for the broader LGBTQ+ community.