Ceejay Amadi emigrated from Nigeria to PEI in 2007 when his parents sought better educational opportunities for him. After navigating struggles with both the university and immigration systems, he has shared his story, lessons learned, time and compassion with his community in many different ways.
This article originally appeared on Discover & Learn on February 8, 2022.
The Black Atlantic Experience is a video series highlighting the stories, challenges and triumphs of some of Atlantic Canada's emerging Black leaders, to educate and inspire a new generation. We are shining a light on a new vanguard who are changing the narrative around what is possible for the Black community, marginalized peoples, and our region as a whole.
Launched during Black History Month 2021, the series explores the unique challenges faced by Black people in the Atlantic region, including systemic and overt racism, and will emphasize the importance and impact of addressing these issues in a real, tangible, and strategic way.
Chijioke Amadi (who is mostly known by his anglicized name "Ceejay"), grew up in Nigeria and immigrated to Charlottetown, Prince Edward Island at the age of 21. His parents felt he could get a better education in Canada than in Nigeria, where getting into the right school was easier if you knew the right people. Working with an agent who decided on Charlottetown as his destination, his parents sent Chijioke to Canada to pursue education and opportunity.
At the University of PEI, Chijioke initially majored in Computer Science, switched to Chemistry and decided to stick with Engineering where he graduated with an Engineering diploma. While at UPEI, Chijioke nurtured his love of soccer — although the burden of a heavy course load while trying to adapt to a new country, new cultures, weather, and language, meant he didn't have the time to play on the school team. He played pickup with his friends instead and ultimately began pursuing coaching roles.
"Seven or eight years ago, I started thinking about coaching, so I put together a team with kids that were hungry to play the game. We were unbeaten in our first season and lost in the finals — it was great soccer, and that's how my love of coaching started," he says. Since then, he has coached older players at higher levels and is now the head coach of the Under 16 and Under 17 boys' provincial teams and assistant coach of the UPEI soccer team, managing strength, conditioning and performance training.
But Chijioke's contribution to the community through sport doesn't end there. Not by a long shot.
Squashing hunger, cancer, mental illness and more
Chijioke is also an avid squash player, and when he began playing five years ago, he realized there was a lot he could do through squash for the community. "I always felt that I was someone who needed to give back, based on my relationship with the community, my personality and the things I see on a daily basis that aren't sitting well with me. I decided that, through the Squash program, I would raise awareness for the things I was inspired by," he says.
He ran the CJ Turkey Drive one year, where he raised almost $1,000 for the island's food banks. The next year, he ran Squash Cancer with Ceejay, where the proceeds went to the Canadian Cancer Society of PEI and the following year, his fundraising efforts benefited the local mental health association. "None of these efforts would have been possible without the support of the community of PEI, Squash PEI and my friends and mentors who taught me how to play squash. I plan to continue raising awareness based on what I get inspired by," he shares.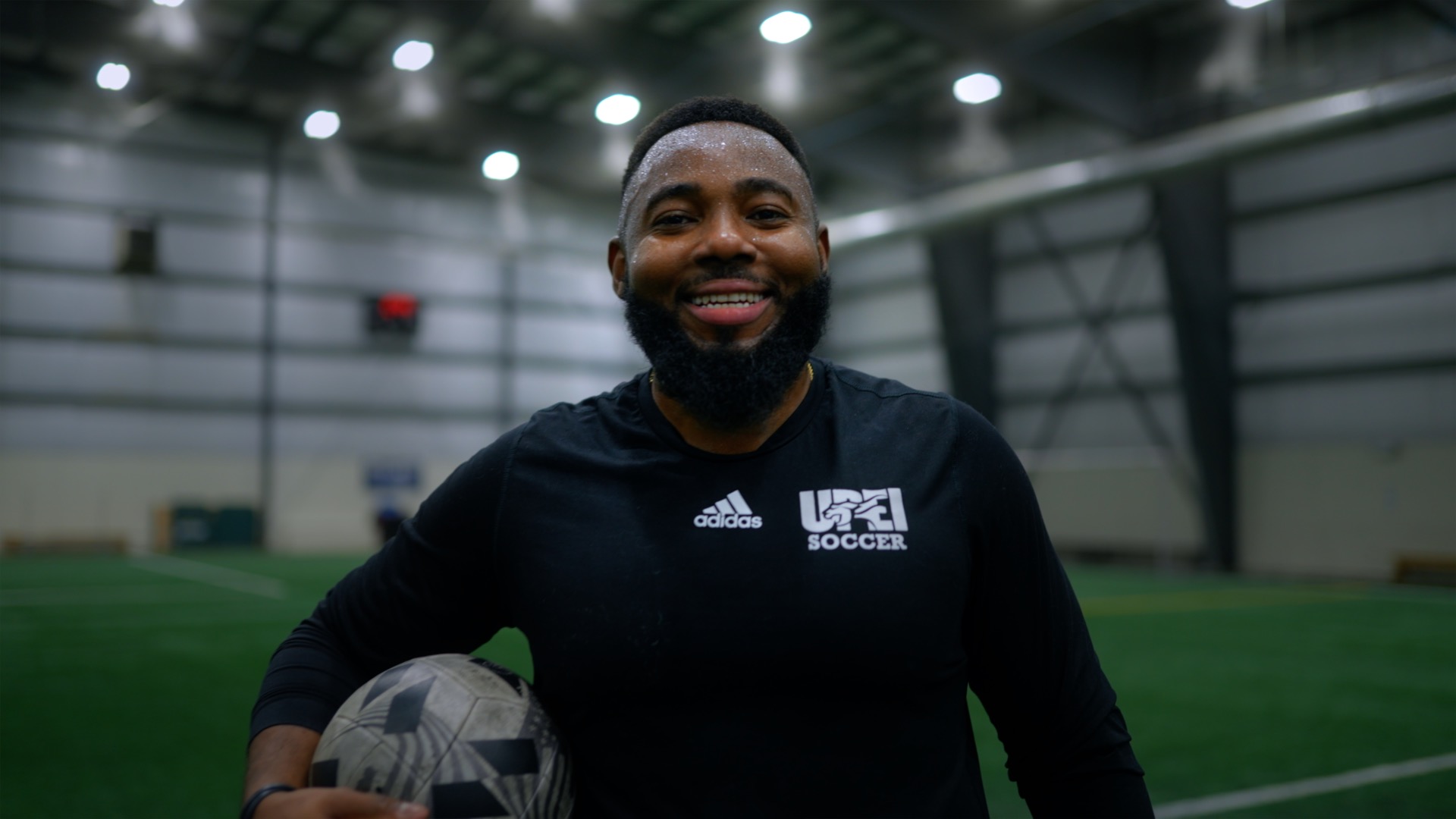 Wisdom, Truth and Failure: A storytelling platform
In addition to his fundraising and volunteering work, Chijioke gives back to his community by sharing the lessons he has learned — and providing a platform for others with stories to tell.
International?WTF (Wisdom, Truth and Failure) is an unorthodox stand-up platform for people to tell stories in their own words about life challenges that will help inspire, motivate, and educate people in the community.
It's a platform that was born out of Chijioke's personal struggles navigating university tuition, study permits and international visas. While in his third year of school, he was late making tuition payments, which resulted in getting kicked out of his Differential Equations exam. He had to wait a full year before he had another opportunity to write it. By the time he was in a position to apply for a post-graduate work permit, and a day before his stay in Canada was to expire, his work permit was denied. The explanation for the denial stated that he hadn't been enrolled in school full-time for the eight months prior to his graduation. They were dark days as he pled his case and sought advice from immigration consultants and support from the university and his friends.
"During those dark moments and the waiting periods, I didn't really know who I was," he says. "But this situation made me realize that I could be better and that I could use this failure to be a better human being. That's when I decided to create a platform around storytelling as we all have different stories that can inspire others."
Creating a platform for PEI storytelling
To date, International?WTF has attracted over 30 speakers, including the leader of the Green Party, Peter Bevan-Baker. Other shows have featured Navy veteran and above-knee amputee, comedian and inspirational speaker, Eric Payne, and maritime singer and songwriter, Scott Parsons. One show was dedicated to giving voice to the stories of Black women and another to an amputee who immigrated from Sierra Leone.
"We pick people on the island who are not necessarily celebrities, just people we believe would have a story," says Chijioke. "Today, people reach out to us on social media and say 'I've heard about this platform and I want to tell my story.'" Due to the pandemic that prevents in-person events, International?WTF is producing a show on Eastlink Community TV entitled MY VOICE where people can share stories about life challenges in order to educate and motivate people in the community. Their stories repair negative thoughts about failure and turn them into positive opportunities. "I often tell people that my stories aren't better than your stories, and your stories aren't better than others — but sharing our stories helps create awareness through diversity that continues to build Prince Edward Island. We hope to continue providing a platform for everyone to share their stories," says Chijioke.
Strengthening all parts of the PEI community
Chijioke is also the president of the Black Cultural Society of PEI, whose mission is to spread love, uplift the community and provide services that will help protect and strengthen the Black community of PEI. "We want to help people around Prince Edward Island from the Black community to understand that this is home — that this is a place where they can persevere and do what they want — a place that supports and promotes racial equality."
And in his spare time?
Chijioke has also started Wheelie Bin Doctors Inc., a garbage cleaning company that pressure washes garbage cans, green bins and black bins. "Because they stink in a seafood community!" he says. The venture is part of Chijioke's mission to help create a healthier community.
"I always keep it around the community. Just like Wisdom, Truth and Failure, the Black Cultural Society, garbage cleaning, sports performance — it's all about my community and how I can help give the people within it an edge."
His latest endeavour, which aims to connect workers from Africa to employers in Prince Edward Island, is another he hopes to strengthen his community by addressing labour shortages on the island and helping prospective immigrants build a new life in Canada.
Citing his struggles adapting to his new life in Canada upon arrival and his issues with navigating administrative systems, racial and systemic discrimination, Chijioke is driven to help others in any way he can.
"I was lucky to have friends back then who are now brothers and sisters who were able to help me stay focused and remain positive. Those moments were either going to break me or define me. I was able to get through that hiccup in my life, which has spiraled into the selflessness that I do for other people on the island. And I will never stop doing that."