The Black Elevator is a six-episode podcast featuring stories from Black professionals, artists and leaders who are making waves and creating change. Designed to educate and inspire Black youth, the series offers information and access through a Black lens.
"The appetite to hear about the issues happening in our world has definitely decreased," says Jesse Lipscombe, host of The Black Elevator Podcast, in a recent conversation. "People used to be very excited, everyone was on board, and everyone wanted to be an ally. But after a pandemic and Zoom call after Zoom call, some people are somewhat exhausted. I can understand that, but at the same time, the problems aren't fixed. So anytime we can offer new ways to digest content, that's important, needed and welcome."
This is what The Black Elevator Podcast sets out to do. By sharing the stories of Black professionals, artists, entrepreneurs and executives — who have succeeded in their industries "against all odds, in some cases," says Lipscombe — the podcast offers a platform to change the narrative for the Black youth of today and tomorrow.
Created by Kevin M'Pindou, the inspiration for the podcast came from listening to a Kevin Hart interview about the the Advancing Black Pathways created by a financial institution in the U.S. in 2019, a similar initiative to the RBC Pathways Diversity Award Program established in 2017.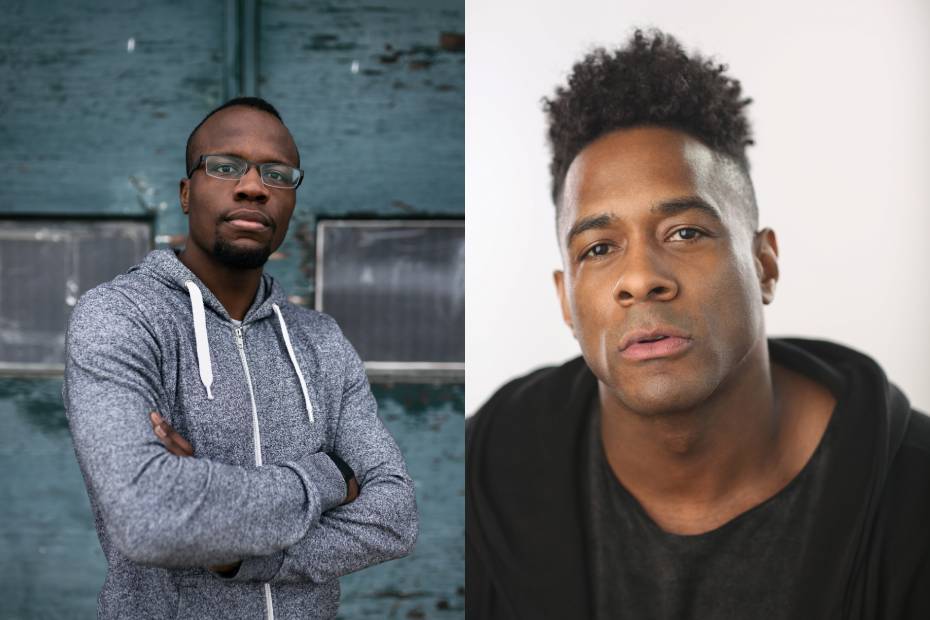 The Black Elevator Podcast was created by Kevin M'Pindou (left) and is hosted by Jesse Lipscombe (right).
"I felt there was an opportunity to create something similar in Canada," he says. While his first idea was to develop a series of in-person workshops and events, the timing wasn't right — it was April 2020, and nothing was happening face-to-face. He shifted gears to consider a podcast and approached RBC about the idea.
"Learning from role models within your community makes their lessons, stories, and successes relatable," says Mark Beckles, Vice-President, Social Impact & Innovation at RBC. "The Black Elevator Podcast focuses on the unique Black voice within our professions and celebrates our shared achievements. I am proud to be a guest through RBC Future Launch, increasing access to lived experiences, tools, and resources for listeners."
M'Pindou approached Edmonton-based Jesse Lipscombe to join the project. "From the moment a podcast was on the radar, Jesse was the first name that came to mind," he says. Lipscombe, an actor, writer, producer and speaker, is also the co-founder of the #MakeItAwkward movement, which strives to create everyday activists by encouraging people to confront — respectfully — those who make discriminatory comments, to show them that hate won't be tolerated. Lipscombe's obvious comfort with open conversations and breaking down barriers appealed to M'Pindou. "He is such a good speaker and has a way with words that makes conversation easy," he says. The two collaborated on the Black Elevator concept — putting together a list of guests from their networks — and the podcast was born a year later.
An inspired guest list
The Black Elevator podcast includes six episodes featuring people who have made "serious ripples and waves in whatever sector they work in," explains Lipscombe, sharing that the intro music of the podcast also features RBC emerging artists and other up-and-coming musicians as "a way to create space and elevate some of the marginalized voices that haven't had the opportunity to shine." M'Pindou adds that they were looking for guests who had not only broken down barriers in their industry but were also using their role to create change and set a new path.
Guests include:
Episode 1: Dr. Wanda Costen, Dean of the Smith School of Business at Queen's University
Episode 2: Dr. Marvin Washington, whose research and consulting practice focuses on the processes of organizational and institutional change
Episode 3: Derrick and Marilyn Raphael, co-founders of ICON Talent, an organization that works to help visible minorities access jobs in high-impact sectors
Episode 4: Darren Jordan, curator of the first-ever 5 Artists 1 Love arts event that celebrates cultural diversity and promotes Black artists in Edmonton
Episode 5: Aisha Addo, founder of the Power to Girls Foundation – a not-for-profit that works to empower and inspire Black and marginalized women by providing them with tools, resources and mentorship
Episode 6: Mark Beckles, Vice President, Social Impact and Innovation at RBC, who is recognized for his commitment to diversity and city building in Toronto
The importance of representation
The Black Elevator Podcast initially set out to reach young Black listeners and provide a platform to hear inspiring stories from professionals and gain insights from industry experts who share advice, guidance and tools to help them prepare for their professional futures.
As it turns out, however, the podcast is really for everyone.
"Originally, the podcast was for young Black listeners," says Lipscombe. But as it finished, I'd say it's actually for everybody. I think many C-Suite corporate individuals need to be listening because we're talking about the holes that currently exist; we're talking about areas where companies can level up and start to have more diverse representation in some of their entry-level positions all the way to the top. If you're a business owner or manager at the C level, this podcast offers a great window into how some individuals have succeeded. There is room for everyone here."
Still, Lipscombe emphasizes the importance for Black youth to hear these stories and the significance of representation. "Bessie Coleman is my great aunt, and she was the first Black woman and first Indigenous person to hold an international pilot's license. My grandfather (Rollie Miles) was a Hall of Fame CFL player. I grew up seeing all these avenues and possibilities – but not everyone has that." He explains that by spotlighting individuals all shades of brown, you can show young people what's possible. And that's where the podcast really makes its mark.
As Darren Jordan, Black Elevator guest and curator of the 5 Artists 1 Love event, says in episode 4: "If there is no scene, if you can't find a scene, make a scene."
Diane Amato is a Toronto-based freelance writer who loves to talk about finances, travel and technology.