At 20, Rita Audi is a powerful voice for gender equality, marginalized communities and social justice. Through the Girls Belong Here program, she had the opportunity to share her voice and experiences with RBC leadership.
Plan International Canada's Girls Belong Here program is part of a global movement to amplify girls' voices, advocate for their rights and elevate their positions in society1. Now in its sixth year, the program has matched over a hundred girls with companies and organizations that give young women the opportunity to see themselves in positions of leadership. Through conversations with CEOs and other leaders at Canada's top firms, participating girls can have their ideas heard, learn about various career paths, gain opportunities for growth and mentorship and expand their networks in meaningful ways.
This year, the program shifted to a digital platform, with interviews, seat shares and meetings taking place virtually. While executed differently, this landmark program remained committed to delivering valuable experiences and opportunities for girls.
"Young people today face so many additional barriers to getting their foot in the door – opportunities for internships, summer jobs and networking opportunities have become very limited, so having a chance to connect, share lived experiences and get practical advice becomes invaluable," says Nicole Jacobs, Corporate Partnerships Manager at Plan International Canada.
In preparation for the seat shares, the team at Plan offers comprehensive training on effective communications, professional development, networking, thinking critically about gender, diversity and inclusion in the workplace – and this year, on getting one's message across in a digital space.
RBC – A perfect match for Rita Audi
RBC has been part of the Girls Belong Here program since 2019, participating in seat shares with extraordinary young women over the last two years. This year, 20-year old Rita Audi was matched with the firm.
Rita, who is pursuing a Bachelor of Health Sciences program at McMaster University, was born in Syria and immigrated to Canada at the age of eleven. For the last several years, she has worked to support marginalized communities and raise awareness about global issues – she was recently a regional leader of clubs for Girl Up Canada and currently serves as a United Nations Girls' Education Initiative (UNGEI) advocate. She has worked on projects and policies addressing dating violence, gender-based violence and has co-founded a menstrual equity project that has recently launched in Hamilton called Period Pop-Ups.
It's her commitment to advancing gender equality and making change in the community that caught the eye of the Girls Belong Here review panel – and ultimately made her such a great fit for a pairing with RBC.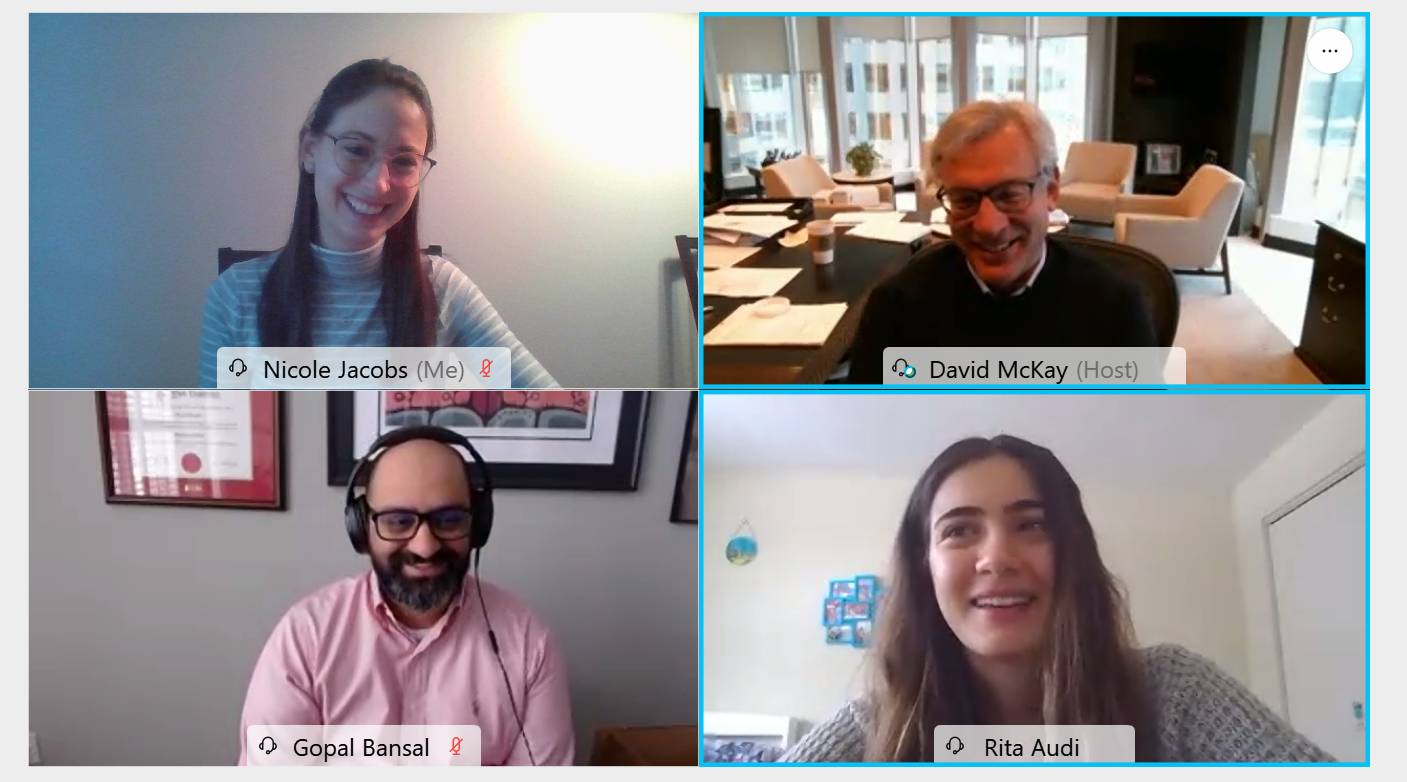 "At first I wasn't sure how [Plan] made the connection between myself and RBC," Rita admits. "But when I read the CEO's bio and learned about the focus and investment RBC makes toward diversity, inclusion and youth, I saw how closely it aligns with the work I do regarding gender equality and social justice."
Through sessions with CEO Dave McKay, CHRO Helena Gottschling and other executives and leaders in Canada, the U.S. and the UK, Rita had the chance to learn about key RBC projects and get exposed to avenues she hadn't considered before.
"Anytime I meet an emerging young leader like Rita, I'm reminded of how critical it is for organizations to tap into the fresh perspectives and ideas of co-op students and young employees," said McKay,
"I strongly believe leaders need to rethink the way we educate, hire, and train our workforce. That means better linking classrooms and workplaces, and finding ways to unlock talent earlier in careers. It's great for young people, and great for business too."
The initiative that captured her attention the most was RBC Future Launch, a 10-year $500 million commitment to help Canadian youth prepare for the jobs of tomorrow.
"I was impressed by the fact RBC Future Launch is an investment in youth to prepare them for the world of work, and not just a scholarship for students, because the voices of young people not in school often get lost," says Rita. "I saw that this is the biggest bank in Canada and they're investing in outreach for youth. This is so important because the youth workplace is competitive and hard to navigate, and RBC is making it easier – not just for people interested in banking, but for those whose passions lie in creativity, social impact, sustainability and other areas."
As part of the programming, the team at Plan makes sure they are creating a space for young people to actively participate and share thoughts on how to make workplaces more inclusive. This is not a job shadow, take-your-kid-to-work-day kind of experience – rather, it's a two-way mentorship.
"I had the chance to share my story and experiences," explains Rita. "And when we talked about youth outreach, I had the opportunity to contribute and offer my thoughts to senior leaders about the best ways to ensure youth voices are heard."
"The Girls Belong Here program is a shining example of the win-win behind reciprocal mentoring," says Gottschling, who is also a Plan International board member. "RBC is always looking to better understand what's happening in our communities, and inspire young people to match their interests and skills with unexpected career paths. Meeting and learning from Rita was another reminder of the challenges young people and societies are facing, and our collective opportunity to advance inclusion together."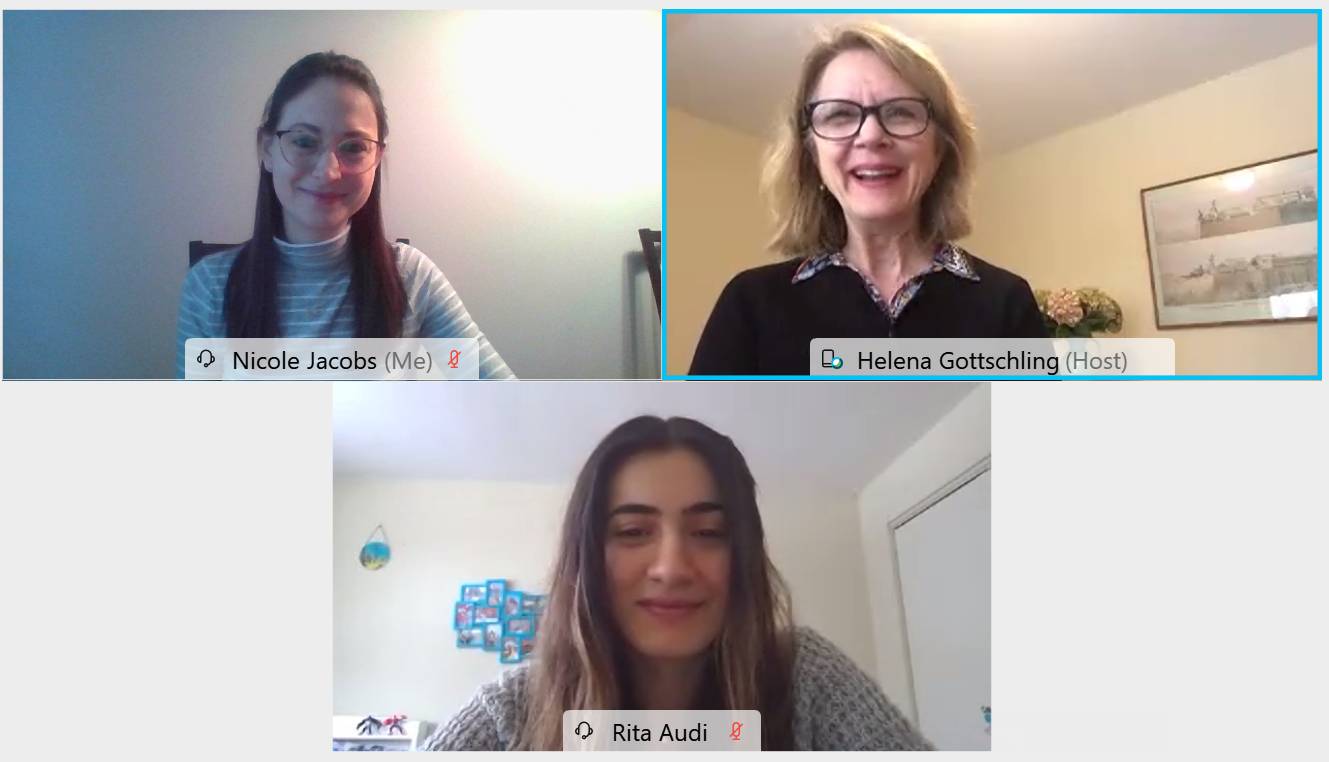 Rita takes this invaluable experience with her as she finishes up her second year at McMaster, as she begins a new job with the Public Health Agency of Canada, launches Period Pop-Ups and keeps her eyes open for other inspiring projects that will lead her to new and different paths.
Long-term, she wants to work in social justice, ideally in a decision-making environment where she can have an impact on marginalized populations. "I want to be the voice and advocate for people of all backgrounds and cultures." Undoubtedly, some of the knowledge, connections and skills gained through Girls Belong Here and her RBC seat shares will empower this already accomplished young woman to achieve her ambitious future goals.
Applications for Girls Belong Here opens up every spring for girls and young women aged 14 to 24. The panel of Plan staff who evaluate the applicants look at not only exceptional experiences, but youth who demonstrate a clear passion for gender equality and inclusion, along with a motivation and desire to create change.
---
1 – https://plancanada.ca/youth-opportunities
Diane Amato is a Toronto-based freelance writer who loves to talk about finances, travel and technology.