Celine Cheung is in the third year of her BBA at Wilfrid Laurier University, pursuing a specialty in Marketing and a minor in Psychology. She was thrilled to be paired with RBC as part of Plan International Canada's Girls Belong Here program and took away key insights from her day at the office.
Since 2016, Plan International Canada's Girls Belong Here program has been connecting self-identifying girls and women between the ages of 14 and 24 with leaders across the civil, corporate, academic and government sectors. Over the past eight years, Girls Belong Here has provided a platform for more than 200 girls and young women to have meaningful one-on-one professional development opportunities that help inform their future careers. The program enhances their confidence and skills to pursue their aspirations, contributing to bridging the leadership gap that exists in terms of gender and diversity.
RBC has taken part in the program since 2020, welcoming outstanding community youth trailblazers Aiza Abid, Rita Audi and Serena Iyoha to learn and share with leaders across the organization. This year, Celine Cheung, a third-year student in Wilfrid Laurier University's Bachelor of Business Administration (BBA) program, decided to apply for the Girls Belong Here program after learning about it through a post on Plan International Canada's Instagram. She was accepted and given her background and interests, she was paired with RBC. As an ambitious student with her future in mind, Celine is the incoming Co-President of the professional and personal development organization the Lazaridis Students' Society, managing a team of nine vice presidents, 40+ directors, 25+ clubs and associations and representing a student body of 5,000+ undergraduate students in BBA, Economics, or Business double degree programs. For her Girls Belong Here seat share with RBC, she engaged in leadership and business conversations with nine senior leaders. She prepared for her day at RBC with questions about women in leadership, carving a path to success, the importance of a first role and more.
Here are four key insights she gained from her conversations.
1) Keep an open mind
While Celine is specializing in marketing, her path into the business world isn't set in stone. RBC's Chief Financial Officer, Nadine Ahn, who met with Celine to share highlights from her personal career journey, as well as RBC's vision, strategy and commitment to advancing women in leadership, feels that Celine's open mind about her future will set her up for success. "She had a refreshing approach to our meeting and came with honest and thoughtful questions about the many factors that impact those pivotal early career decisions," Nadine explains. "She has a firm grasp of her skills and interests, but hasn't quite landed on where they can take her. That's where programs like Girls Belong Here are so impactful in providing new perspective on the many possibilities of where your career can take you." Nadine adds that, "while you're never fully prepared for those inevitable career curveballs, knowing yourself – your strengths, weaknesses and gaps – is key to guide anyone's career journey."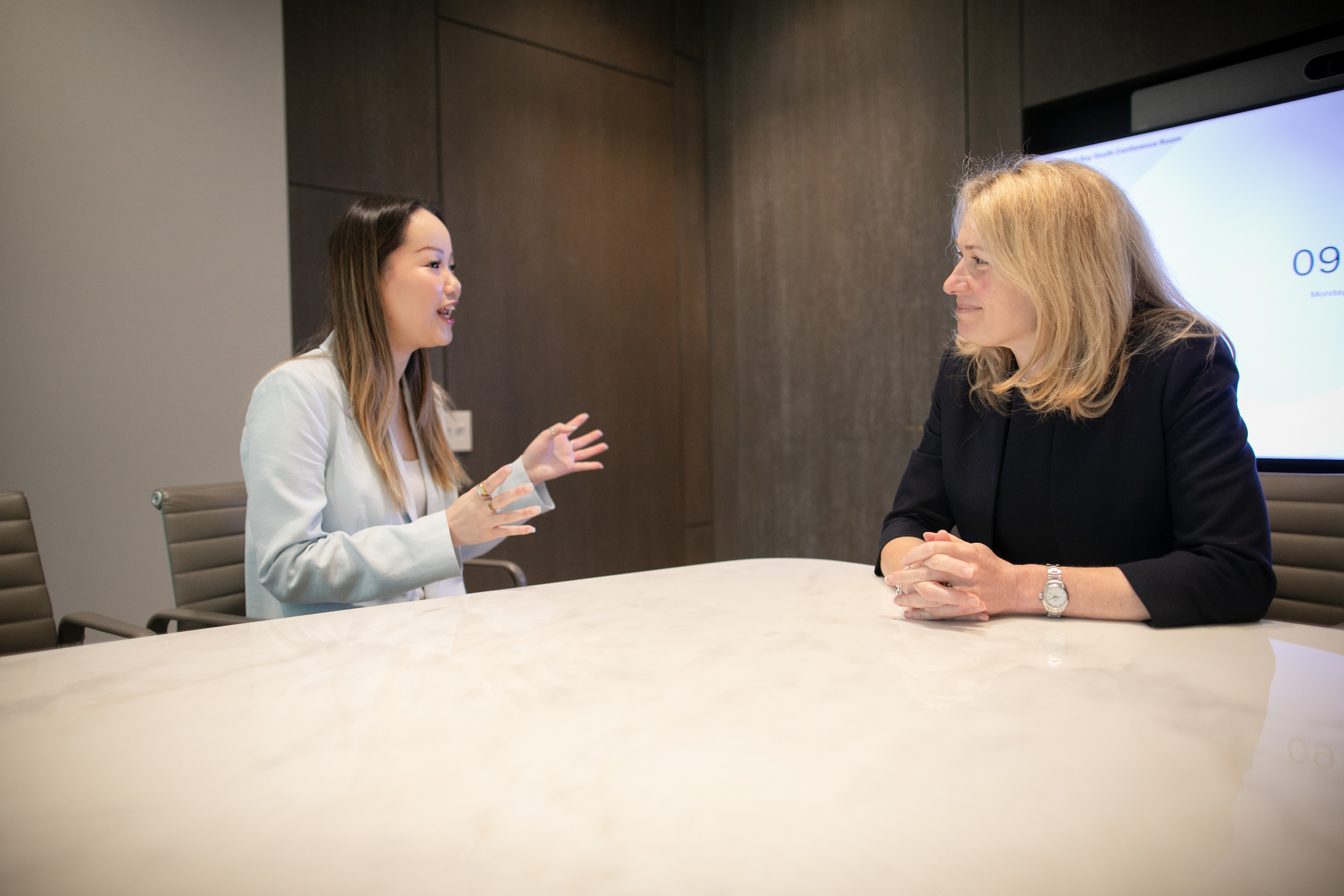 2) Take advantage of opportunities
Petra Haneberry, Chief Operating Officer and SVP, CFO Group, shares that she and Celine spent a great deal of time talking about one's first role. While Petra appreciates the stress that comes with finding a first job, she encouraged Celine to explore more. "She asked me what advice I would give my younger self, and one thing I said was to plan less. If your path changes, it's not a crisis. While you need to know what your goal is, the path to reach that goal can be different than what you laid out initially," Petra says.
"Indeed, the start of one's career is the time of life to think outside your comfort zone, seize new opportunities, take some risks and jump in with both feet – because no matter what, you will learn from your experiences." says Petra.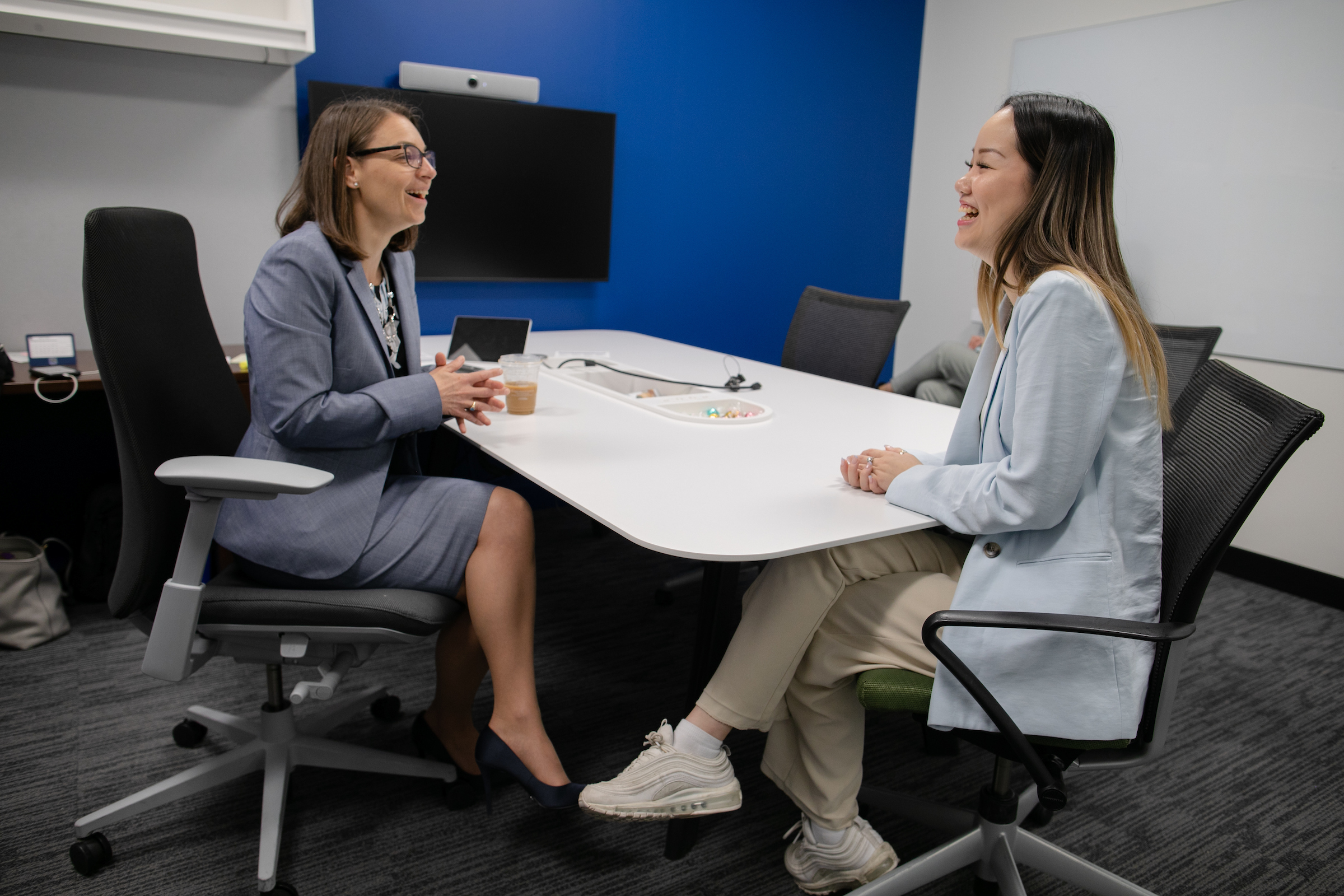 3) Speak up – even if it scares you
Celine's first meeting of the day was with Grace Chan, Vice President, Media, Content & Merchandising. Grace shared her journey as a female and visible minority executive with Celine. "Coming from an Asian culture, you're taught to respect your elders. There's a hierarchy you're taught to follow – you respect and listen to those who are older or more senior. You just don't challenge. When I first started out at RBC I was unsure if I could share my point of view being around all these older and senior male executives," she says – an experience she shared with Celine.
"It is our job to speak up. If you have an expertise, you need to share your thoughts. While you need to listen, you also have to make sure you have a perspective because we need more diverse thinking and diverse perspectives around the table . Just as people have a responsibility to make space and time for you, you have a responsibility to fill it."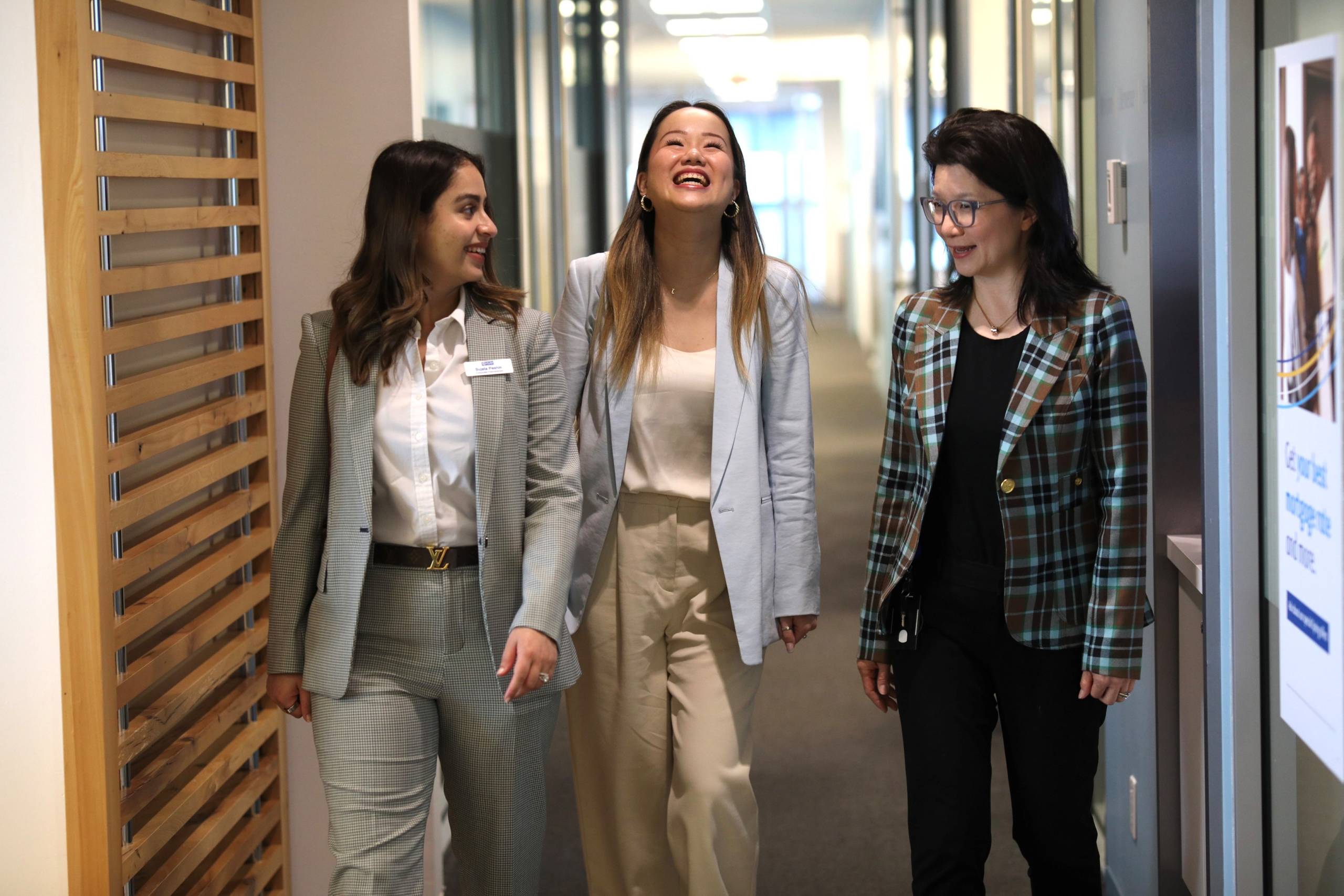 4) Find a way to stand out
Nadine offered similar advice when Celine asked how to make her voice heard, particularly working in a male-dominated sector. "It's very important to have something that can distinguish you, particularly when you're competing for a role. Whether that's a unique skill, capability or simply a strong work ethic, demonstrating that you bring something unique to the table is always valued."
For Nadine's part, she leaned on her technical accounting knowledge earlier in her career. "I became the expert in the room and that enabled me to build my confidence. I encouraged Celine to look for opportunities to build her brand and lean in on those areas that make her stand out."
The opportunity to meet with a diverse range of leaders across Marketing, Capital Markets, Finance and Technology, left Celine with many important learnings. "I received a lot of great career advice, which helped me feel better about where I am right now. It was inspiring to hear their stories and how they have grown within the corporate world," she says of all the leaders she met, particularly the female executives who were so candid with their unique journeys.
As she prepares for her final year at school and plans for her first career role, Celine now takes with her a knapsack of insights, stories and experiences to draw from. "There's a lot of possibility out there," she says. "I feel even more confident now to explore and see where it takes me."