Working mothers and fathers face a persistent struggle to be the best parents they can and their best at work. While the tug-of-war feeling may be ongoing, working parenthood doesn't need to feel like a losing battle.
Working mothers and fathers face a persistent struggle to be the best parents they can and their best at work. While the tug-of-war feeling may be ongoing, working parenthood doesn't need to feel like a losing battle.
As dads have become more involved in childcare in recent years given societal shifts and expectations, studies do show that women continue to bear most of the responsibility. As such, the pressures of working motherhood are typically more pronounced than those of their male counterparts.
Every family is different however, as "traditional" models have evolved over time. Today, the sharing of parental responsibilities shakes out differently for everyone – particularly during a pandemic – as some partners need to leave for work while others are mandated to work from home.
In a recent discussion with some dynamic women across the RBC enterprise, three moms share their personal challenges, victories and insights as they maneuver through seemingly opposing worlds.
Guinevere Taylor
Director, EMEA Business Development, RBC Global Asset Management (UK)
Mother of 1 girl, 2 boys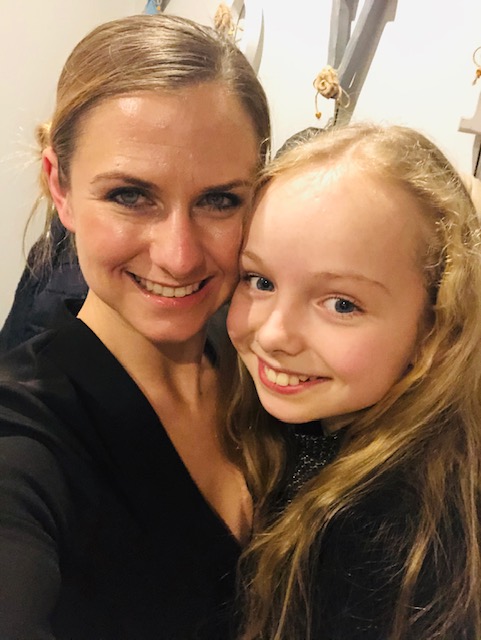 Guinevere (Guin) Taylor has been at RBC for two years, working as a director in the sales department of Global Asset Management in London. Before RBC, Guin worked at other firms – and her experiences couldn't have been more different.
"I was normally the only working mom in my group," she says of her career pre-RBC. "I got left out of a lot of things. I couldn't go to drinks on a Friday because it wasn't planned ahead of time, or get in particularly early if the team set up an 8:00am meeting. I got also got overlooked for things because it was assumed I couldn't get to conferences. Being a mother held me back in my career," Guin says.
When she got to RBC, being a working mom has been a completely different experience because the environment is so much more flexible. "This flexibility has really allowed me to focus on my career in a different way," she says. "Teams know that they have to mix things up, having events at lunch time, in the morning or in the evening in order to cater to everybody."
An ambassador for equality
Currently, Guin is the co-chair of R Women in the UK – an employee resource group that focuses on gender equality at RBC. She has always been interested in equality issues, due in large part to the struggles she's had herself as a working mom. "When I came to RBC it was encouraged that you could talk about these things. I found out about R Women during my orientation. After a year on the committee, I've become one of the three co-chairs and I love it."
Takeaways from Guin's experience
Guin believes that allowing for a flexible working environment benefits both the employer and the employee. "If you can allow people to manage their work load around their lives, people will really appreciate that," she says. "Because I feel appreciated, I do more because I want to give back."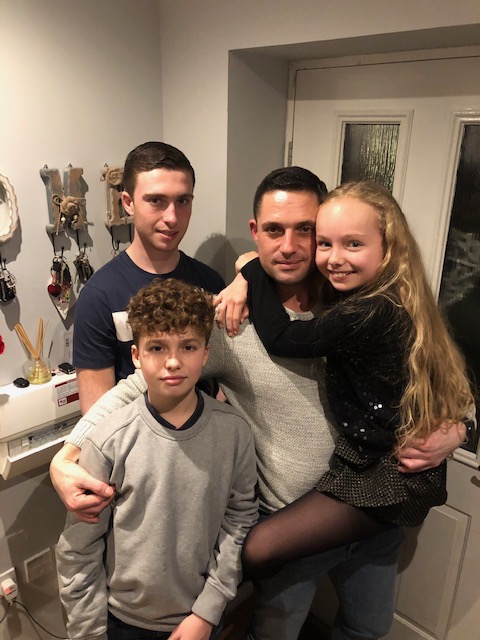 Lovelyn Toyo
VP, Commercial FX Sales – FICC, Capital Markets
Mother of 3 boys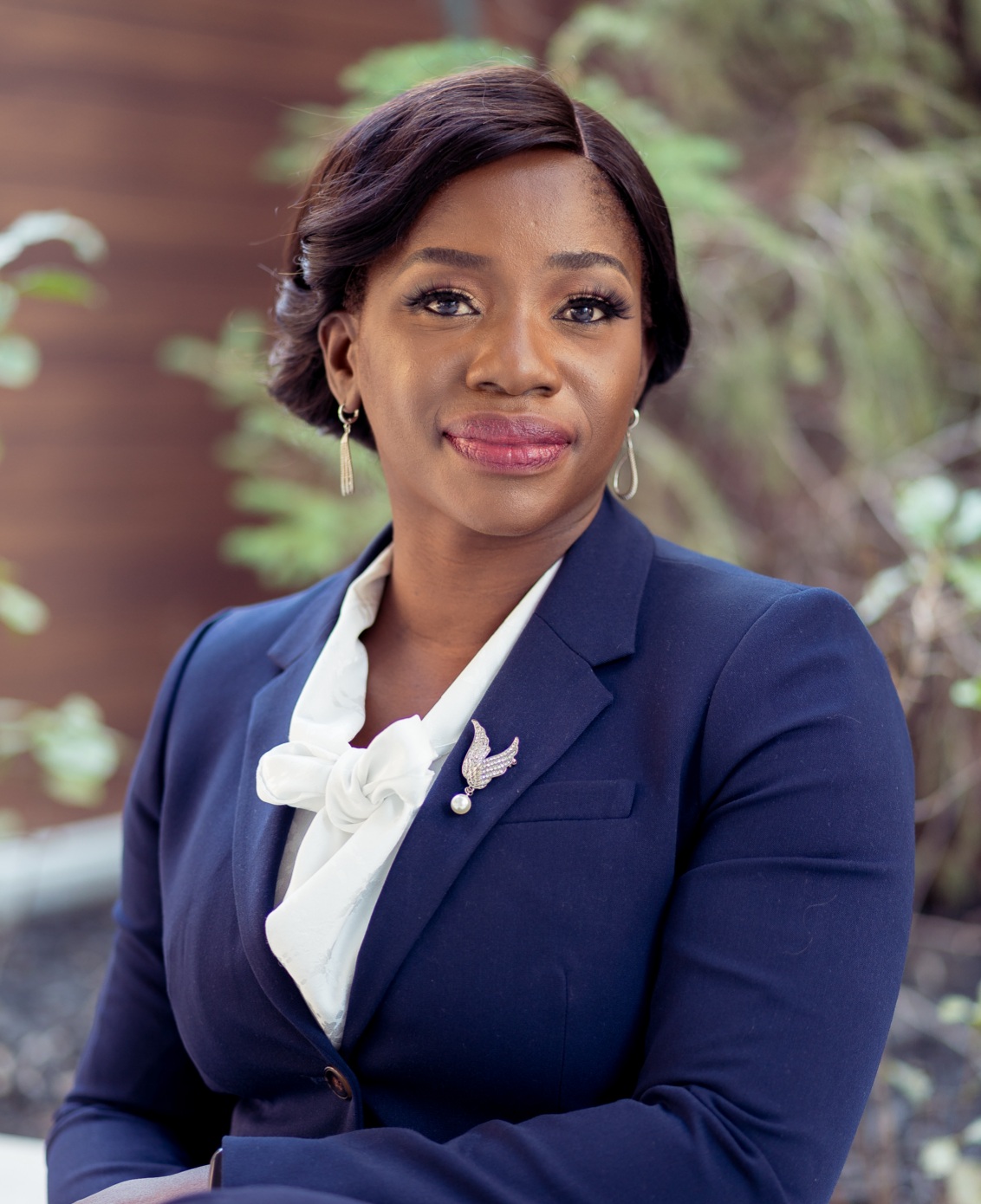 Lovelyn joined RBC in September, 2019 through the Women in Capital Markets/Return to Bay Street program, which provides professional women in finance a pathway back to their careers after an extended period of leave – typically due to family obligations. Having recently emigrated from Nigeria and spent a year and a half away from the workforce to care for her family and organize the move, 'Return to Bay Street' was the perfect platform to relaunch her career in a new country.
Although she wasn't sure how her international Capital Markets experience would fit into the program, a friend gave her the push to apply. "You're the kind of woman they're looking for," she had said. So she did!
"For the most part, the emphasis wasn't on work-life balance," Lovelyn says of her career before RBC. "And as a woman it wasn't uncommon to take a back seat in your career if you needed to take time for your family." She was happy for the move and the opportunity to have the flexibility to grow her career while still giving 100% to her family.
The impact of COVID-19
When asked how she has been balancing work and kids during the pandemic, Lovelyn admits: "It hasn't been fun," her situation as a newcomer to both Canada and RBC making the transition particularly challenging. "I was building a social network at work, getting to know people, progressing in my career," she says of the months pre-COVID. "So it felt like the momentum I had been building slowed a great deal."
"What changed for me was my mindset," she says. "I knew I could keep stressing over things outside of my control, or find ways to take control over what I could still influence." So she looked for strategies to network virtually, reached out for career progression advice, and is taking the additional challenges of working at a new job while being home one day at a time.
Takeaways from Lovelyn's experience
Lovelyn recognizes that as a newcomer to Canada, RBC took a chance on her by hiring her through the Return to Bay Street program. She is therefore a strong proponent of 'judging on potential'. "Some people may need a bit of extra support to turn high potential into high performance," she says, citing the challenges working mothers have in male-dominated fields. "It is good to find and support opportunities to level the playing field," she says.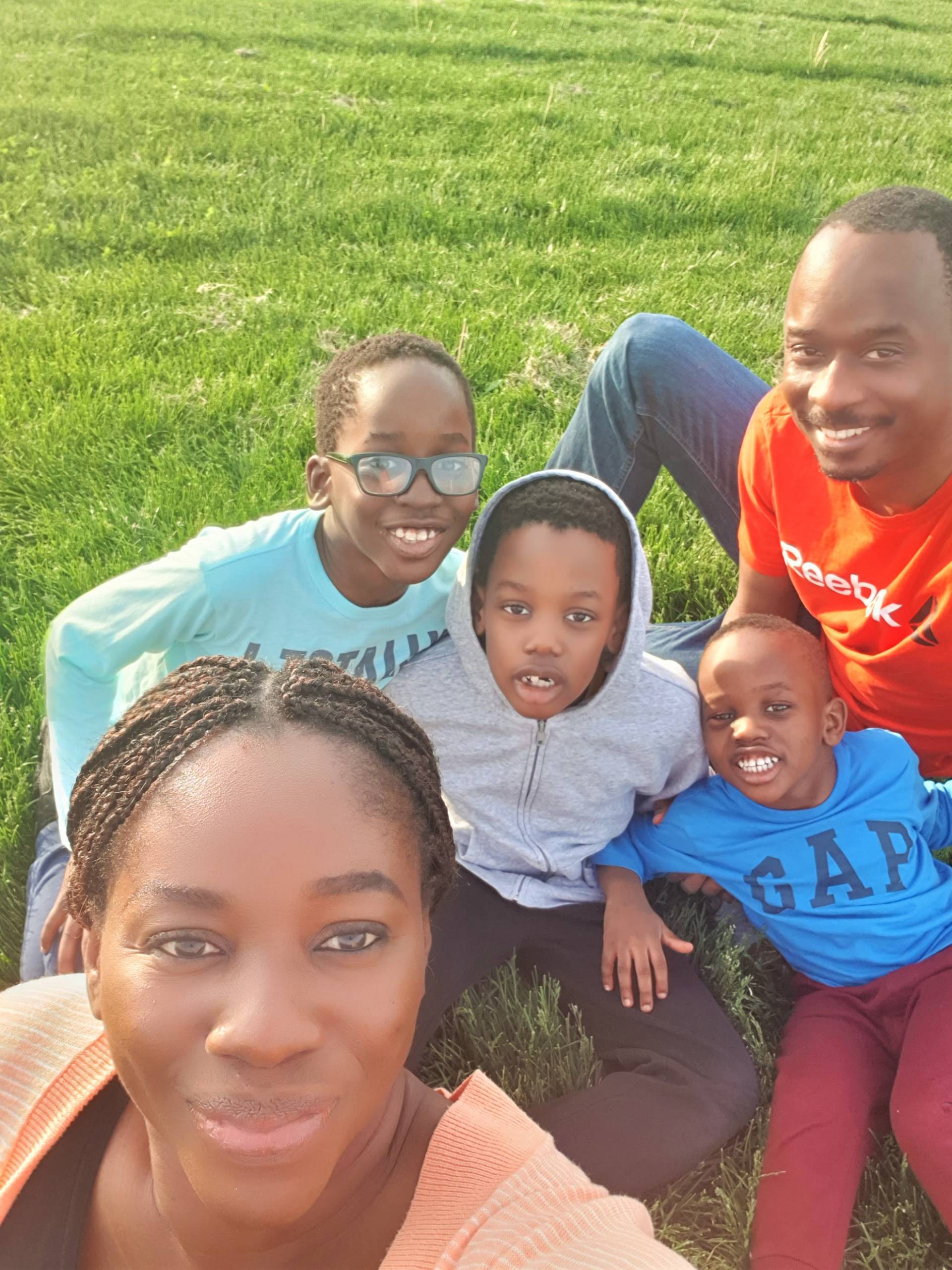 Laura Cheeley
Vice President, Senior Manager, Practice Management & Teams, Minneapolis, U.S.
Mother of 3 girls, 1 (newborn) boy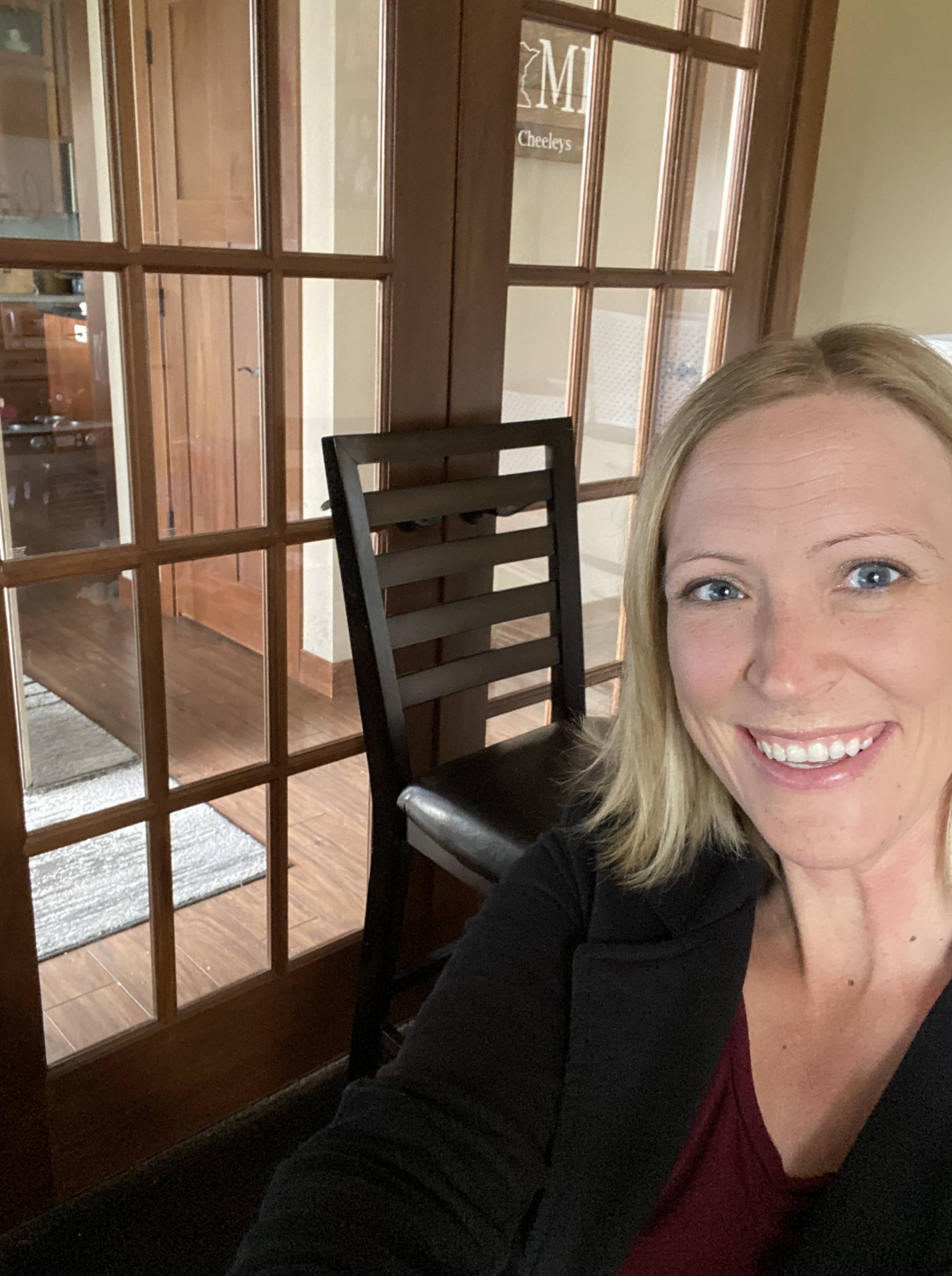 Laura Cheeley has been with RBC for 13 years. After starting out in an entry-level position, she has worked her way up through the organization. She very recently had her fourth child, and has returned from maternity leave three times to exciting roles at RBC.
She describes being a working mom as "beautiful crazy." "There is so much beauty and so many amazing aspects of being a mother – it's such an incredible, beautiful thing," she says. "Being a working mom is adding a bit of crazy."
"I know I'm a better mom because I work," says Laura. So balancing work and motherhood was never a question of 'if' but 'how'. "I love working," she says. "I love my job and my team. But I've also always wanted to be a mom. Those two pieces have always existed within me." She credits RBC for giving her the flexibility to prioritize her family when needed. She nursed all of her kids for more than a year, for instance, and RBC allowed her a safe space and time to do that. "There was no pressure or guilt. My leaders would tell me – 'if you need to come in late or work from home, you can'. It made it so much easier for me coming back because I knew I had options."
A shifting of priorities
Laura also recognizes that as a working mom, she never really feels like she's winning either at work or at home. "That is the hardest part," she says. "I can never go through a day where I feel like I nailed it, or feel I accomplished everything I needed to."
Instead of getting down, however, Laura has shifted her mindset as well as her definition of success. For example, she will put three things on a "Have To Get Done List." Then she'll have a lower priority list, and then a development section. Breaking down her priorities has allowed her to feel successful and on top of the key to-do's in her day. Plus, she is a firm believer in the saying: "Done is better than perfect."
Key Takeaways from Laura's experience
During COVID, Laura has taken conference calls from a closet (it's the only door that locks), sometimes works in the garage, in the park or on the porch. She recognizes that true "balance" doesn't really exist, but you do what you can with what you have. Letting go of an idea of perfection and making the most of the flexibility offered by RBC allows her to thrive both at work and at home.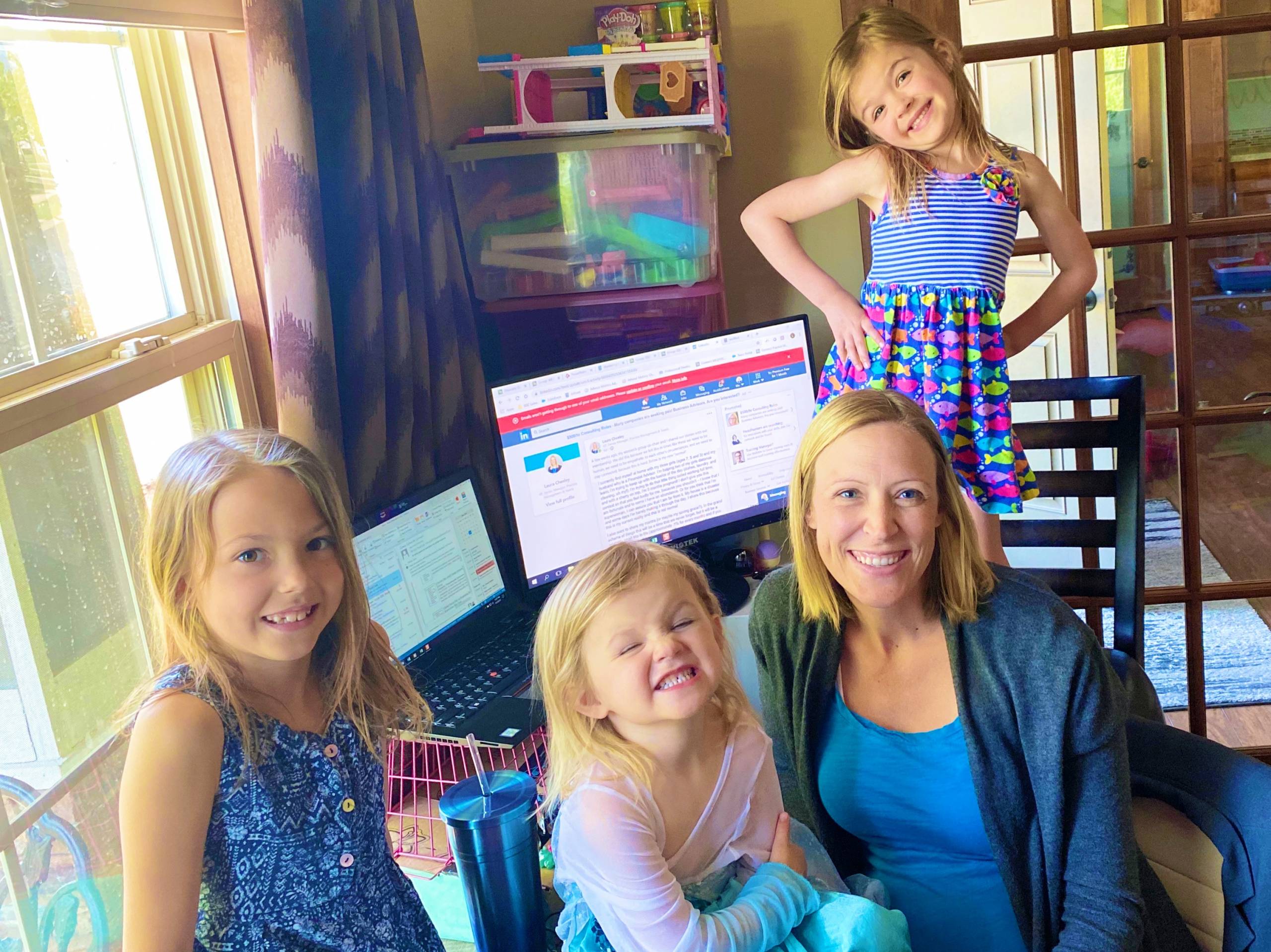 Tools for success
Being a working mom isn't easy, and it's being made even harder in the current environment. According to a recent report from RBC Economics, between February and May, employment among women with toddlers or school aged children fell 7% compared to a decline of 4% among fathers of children the same age. Single mothers were even more significantly impacted, with employment among this cohort down 12% from February to June (compared to a 7% decline among single fathers).
That's why resources for working mothers are so valuable for women at every stage of their careers. Anna Catricala, Saman Rehman, and Jodi Wright lead the Working Moms Community group, which is a working committee within the Advancement of Women in Leadership ERG at RBC. The Community has built a network of members organically with a purpose of connecting those across the Bank that share common challenges, opportunities and questions unique to working moms. The group offers support, actionable advice and learnings to women as they navigate their careers while meeting the demands of their families.
As Lovelyn Toyo experienced, having resources – and people who can support you as you navigate your competing priorities – is an important factor of success. And adopting some of the tools and insights working moms have put into action can buoy you both professionally and emotionally.
Here are some of the key insights RBC working moms have shared:
1. Redefine success. Perfection isn't the ultimate goal. As Laura Cheeley reminds, "done is better than perfect."
2. Ruthlessly prioritize. Categorize what has to get done today versus the tasks that are less important or can wait. A to-do list of 3-5 items is easier to tackle than all of the 50 things that are undoubtedly on your larger list.
3. Mind over matter. It can be easy to feel down about what you're not getting done or getting right every time. Instead, shift your mindset to what you can accomplish and celebrate the little successes that come along the way.
4. Have tough conversations with your manager. If you're not getting the flexibility you need to drive forward with your career, ask for it.
5. Remember, you're brilliant! Working moms are natural multi-taskers with an incredible capacity to get things done.
Women have historically shouldered the bulk of family responsibilities, yet roles have been shifting and partners have become increasingly involved in the home and with children – from diaper changing to cooking to homeschooling. And, many studies have shown that dads have stepped in to take on more housework and childcare duties during the pandemic than before.
There's no question that a sharing of domestic responsibilities better enables working moms to succeed at work and at home. At the same time, organizations that support them through flexible work arrangements and career advancement programs will benefit from their unique skills and perspectives. In short, when female talent is supported and celebrated, everybody wins